Need More Fun at Work? 5 Do's and 5 Don'ts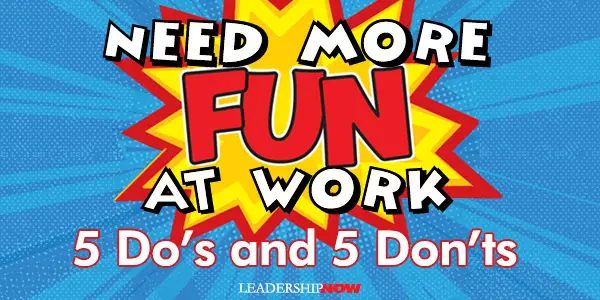 THERE'S much more to workplace fun than having a Ping-Pong table in the employee break room, free soda in the refrigerator, and an occasional office party. Prioritizing fun at work is really about embedding fun into the work culture.
According to the employees who work for firms listed in Fortune's "100 Best Companies to Work for in America," the most defining characteristic of these organizations is they're all "fun" places to work.
Yet, there's effort involved in making work fun, and it's important to be intentional when crafting and tailoring fun to your employees' desires! Here are some "do's" and "don'ts" to help guide you in navigating workplace fun:
Do's
Happy employees make for more productive employees. The University of Warwick conducted a study of more than 700 participants and concluded that increased happiness led to a 12% spike in productivity. And, according to research by Ben Waber, companies can increase productivity by up to 25% by making small changes that increase employees' sense of fun and satisfaction. Take note of these "do's" as you strive to implement a fun workplace culture:
Do #1: Be playful and choose to have fun. We believe having fun at work is a matter of choice. Take your work seriously, but yourself lightly.
Do #2: Be open and flexible. We know it's easy to have fun at work if you put your mind to it, but you also need to be open to what your co-workers feel is fun.
Do #3: Experiment and try new things. Part of what makes something fun (and funny) is the element of surprise, freshness, and creativity.
Do #4: Learn, refine, and reapply. No matter what you attempt as a way to have fun, you can learn from it. What worked and what didn't? If you choose to do it again, what would you change or improve upon?
Do #5: Be patient. If the people you work with don't readily accept your idea of fun or don't participate—hang in there! Invite and encourage their ideas. What would be fun for them?
Dont's
What's fun to some may not be fun to others, so you need to get to know the people you work with and allow them the freedom and flexibility to have fun in ways they appreciate. Take note of these "don'ts" as you strive to implement a fun workplace culture:
Don't #1: Don't force fun on others. Fun has to be safe; it can't be forced on others. No one should be made to participate in an activity deemed "fun" by others if they don't want to join.
Don't #2: Don't be rigid and predictable. Don't dictate what is fun or when it can occur at work. Don't impose rules on others about fun.
Don't #3: Don't keep doing the same things. If variety is the spice of life, then fun is your chance to add some seasoning!
Don't #4: Don't overlook learning from the fun things you've tried. To get better at anything, you have to debrief what was done, what went well, and what could be improved. So is the case with fun at work. Take time to consider what you did and how you could make it even better the next time.
Don't #5: Don't give up. The more fun you attempt, the easier it will be for others to join in. At some point, fun will become an ingrained part of your work culture that everyone will come to appreciate and expect!
Takeaways
What's fun for some may not be for others. You can't force fun on anyone. Instead, allow people to participate as they are comfortable—and support them in the process.
Know thy people well. Allow people to be who they are and do what they prefer to have fun.
Make it safe and fun for everyone. How do you ensure people feel comfortable and experience fun? Get to know them and learn what they enjoy, and encourage them to do more of those things.
* * *

This is a post by
Bob Nelson
and
Mario Tamayo
.
Bob Nelson
, Ph.D., president of Nelson Motivation Inc., is the world's leading authority on employee recognition and engagement. He has worked with 80% of Fortune 500 companies and authored over 30 books, including the multimillion-copy bestseller
1001 Ways to Reward Employees
.
Mario Tamayo
, a principal with Tamayo Group Inc., has more than 30 years of experience in maximizing human performance, working with organizations such as Genentech, Amylin Pharmaceuticals, Petco, General Dynamics, and the U.S. Men's Olympic Volleyball team. They are co-authors of
Work Made Fun Gets Done! Easy Ways to Boost Energy, Morale, and Results
.
* * *


Like us on
Instagram
and
Facebook
for additional leadership and personal development ideas.
* * *


Posted by Michael McKinney at 07:26 AM
Permalink | Comments (0) | Human Resources