Breaking Old Habits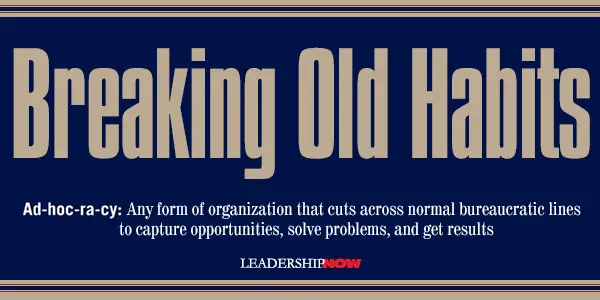 Robert Waterman, Jr. tells us in his book
Adhocracy
—any form of organization that cuts across normal bureaucratic lines to capture opportunities, solve problems, and get results—that we have created organizations that are resistant to change. He writes:
We're controlled by ideas and norms that have outlived their usefulness, that are only ghosts but have as much influence on our behavior as they would if they were alive.

Habit haunts us even when we ought to know better. Stress—the kind produced by rapid change—seems to make us revert to mindless, programmed behavior. Maybe we're just fearful of change and failure, for even when we know a situation cries out for adhocracy, we often chose the old, familiar path.

Many habits are useful; we wouldn't be able to get through the day without them. Habit in general is comforting. But how do we break those habits that have outlived their usefulness?
He suggests four ways to help us break out of our comfort zones:
Make a public commitment to change
Take at least one small step in the new direction as soon as possible
Go cold turkey; no lapses allowed
Build in tremendous positive reinforcement for the new behavior, and don't slow down long enough to let old habits sneak back
* * *


Like us on
Instagram
and
Facebook
for additional leadership and personal development ideas.
* * *

Posted by Michael McKinney at 08:41 AM
Permalink | Comments (0) | TrackBacks (1) | This post is about Change