The Six Mindsets That Distinguish the Best Leaders from the Rest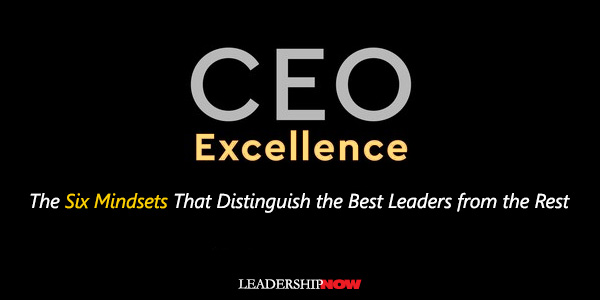 WHAT differentiates the best CEOs from the rest? There are timeless mindsets and practices that make the difference. In CEO Excellence, McKinsey partners Carolyn Dewar, Scott Keller, and Vikram Malhotra, spell out these mindsets and practices. The culmination of what they found leads to the fact that these leaders help others to achieve things they never imagined they'd be able to. So there are lessons for all leaders at any level in this book.
Through their research—they found 146 CEOs that excelled in the CEO role to study but then cast a wider net to round it out to 200 top-performing CEOs—they determined that there are six mindsets that differentiated the best leaders of the twenty-first century from the rest.
These mindsets enable them to navigate the dominant features of their environment—new competition, disruptive change, digitization, pressing social and environmental issues, or economic meltdowns—with wild success, while others wallow in mediocrity. The simple fact is that the top of the pack think differently, which causes them to take profoundly different actions day in and day out.
The Six Mindsets
The best CEOs may not be the best in these mindsets, but they are the best at integrating all of these responsibilities simultaneously. "For a CEO, what's important is that you can balance everything together," said KBC's Johan Thijs. Assa Abloy's Johan Molin added, "As CEO, you need to realize that you're only one person, and you're not the best person because you're such a generalist. You're not going to be not trying to be the smartest of the smart, but you can give good advice, facilitate, and encourage people to work."
Each mindset is associated with three practices.
Setting the Direction
Rather than hedging their bets, the best CEOs are bold. "They're less a taker of their fate and more a shaper—constantly looking for and acting on opportunities that bend the curve of history."
Vision: They reframe what success means. "The best CEOs often dig back into a company's history to find out what originally made it successful and then take that central idea and expand it in ways that open up new opportunities." They add, "what matters to them is to have a clear and simply articulated North Star for the company that redefines success, influences decisions, and inspires people to act in desired ways."
Strategy: Move early and often. "Excellent CEOs are always looking to the next S-curve while ensuring the current one is delivered on."
Resource Allocation: Budgets are not based on last year's budget. Resources are zero-based and then solved for the whole. "No investment is taken as a given—every investment is scrutinized, alternatives explored, and approval justified by how it helps deliver against the company's strategy and vision."
Aligning the Organization
Once the direction is set, execution is not inevitable. The problem is more than intellectual. It is an emotional one. "You have to fix both sides as the CEO: The easy part is technical; the difficult part is people."
Culture: Align the culture: reshape the work environment, make it personal, make it meaningful, and measure what matters. CEO must embody the change.
Organizational Design: "When a CEO sees an organization tilted one way, there's a temptation to tilt the opposite way—and, like the pendulum of a clock, the swing back and forth between the two polarities is perpetuated. The best CEOs rarely make radical swings from one extreme to the other."
Talent Management: "Your people decisions are really where all your leverage is," says GE CEO Larry Culp. You must clearly define high-value roles, look for the left tackle positions that protect and enable value to be created, find the unusual suspects, and actively build the bench.
Mobilizing Through Leaders
The best CEOs and less concerned about what their leaders do together and more concerned about how their leaders work together. "They obsess with solving for the team's psychology and let the mechanics of coordination and execution follow."
Team Composition: "A group of high performers only become truly high performing if its members are complementary and connected to one another and not simply working side by side." The best CEOs staff the team with an eye to aptitude and attitude, act fast but fairly regarding those who don't belong, stay connected while keeping their distance, and build a leadership coalition beyond their immediate team.
Teamwork Effectiveness: Those on the top team have a responsibility to the organization over their own units. "I'm on the team so I can represent the company to my function or business."
Operating Rhythm: "When a CEO creates a clear and effective operating rhythm, every member of the top team can sync the rhythm of their specific area with that of the company as a whole."
As CEO, you have a 30,000-foot view of the organization. You need to make sure your team members have the advantage of that perspective. "If the CEO is not making the gears mesh together, dysfunctions quickly become hardwired." From Microsoft's Satya Nadella:
People say the job is lonely. I realized that it's an information asymmetry problem. Nobody who works for you sees what you see. And nobody you work for sees what you see. That's the fundamental problem of a CEO, which is you see it all, and nobody else around you sees it, so you can get very frustrated.
Engaging the Board
"The best CEOs help the board chair run the board so that the directors can help the CEO run the business."
Board Relationships: The best CEOs build and maintain trust by choosing radical transparency, building a strong relationship with the board chair, reaching out to individual directors, and exposing the board to management. "Trust is not about charisma or friendship. Trust is based on delivery," says David Thodey CEO of Telstra.
Board Capabilities: Be clear about the role the board should play and make sure they understand the business. Encourage the chair to evaluate board performance.
Board Meetings: Focus on the future. Serve on a board yourself to get a perspective on what it is to be a board member. Never get involved in board functions.
Connecting with Stakeholders
"Research shows that a company's relationships with external stakeholders can influence as much as 30 percent of corporate earnings."
Social Purpose: Be sure your organization has a powerful reason for why they exist. We live in a time where stakeholders want to hear the CEO or organization take a stand on various social issues. "The best CEOs don't confuse their personal passions for their company's principles."
Stakeholder Interaction: Getting it right is not always easy, but the best CEOs share these commonalities: they contain the time spent Outside, they understand the other party's why, they gather as many good ideas as possible from the interactions, and they maintain a single narrative across all stakeholders. Former Best Buy CEO Hubert Joly explains:
The key with any stakeholder is to get the "say-do" ratio right: the ratio between what we say we were going to do and what we actually did. That's how you get credibility. And if you're doing what you are saying you will do, they'll actually want to see less of you. They'll want you to be spending your time working on the business and delivering on your commitments.
Moments of Truth: Have a crisis playbook that you can tailor to each situation. When a crisis hits, maintain a long-term perspective to keep driving the business forward. Ahold Delhaize's CEO Dick Boer says there are three lessons for CEOs when dealing with a crisis:
First, do not chair or lead your crisis team. Let them report out to you. This gives you the space and time to oversee all the elements of the business, not only the crisis. Second, show confidence in your organization—show that you're in control, that you know what you're doing, and that you'll take care of your people and your customers. Third, think of what's next even when the storm is still around you, because there'll be opportunities and other situations you have to manage as a consequence of the crisis that you might not have thought about.
Managing Personal Effectiveness
Leading yourself is essential to be physically and psychologically fit, and not even the best CEOs have this figured out. One executive coach said, "No one has ever lived to outwork the job. It will always be bigger than you."
Office: Managing your time and energy involves keeping a tight but loose schedule, compartmentalizing, infusing energy into your routine, and tailoring your support staff to your needs. "With so much on a CEO's plate, one of the most challenging aspects of the job from an emotional perspective is to move from meeting to meeting without letting what happened in one spill over to sabotage the next."
Leadership Model: Show a consistency of character—authenticity. "Being consistent doesn't mean that CEOs should be inflexible. Without betraying their core values, the best are willing and able to modify how they lead if the circumstances demand i. It's important to figure out what kind of CEO the company needs."
Perspective: Stay grounded. The best CEOs don't; make it all about them. They embrace servant leadership. They create a kitchen cabinet that can speak truth to power and keep them humble, and they display gratitude for the opportunity to sit in the CEO chair.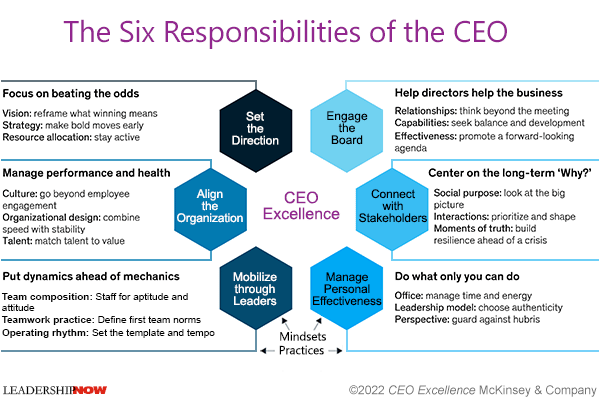 * * *


Follow us on
Instagram
and
Twitter
for additional leadership and personal development ideas.
* * *


Posted by Michael McKinney at 04:33 PM
Permalink | Comments (0) | Leadership