Creating a Dare-to-Serve Culture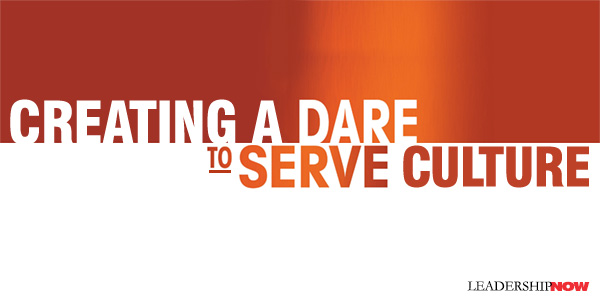 COMMAND and control is a leadership style that is in many ways our default leadership position. It's very human. Leadership that serves is far more demanding of a leader. These demands easily drive us back into our old styles of leadership. It's the daily grind that derails our best intentions.

Cheryl Bachelder became the CEO of the ailing Popeyes Louisiana Kitchen in 2007. By 2014 she had turned it around by deciding to lead through service. Dare to Serve is her account of the turnaround. It is valuable because it describes the thinking behind the servant leader approach and the daily decisions that were made and are necessary to successfully adopt servant leadership in an organization. This is not servant leadership theory. It is servant leadership in day-to-day behavior.

She began with two decisions: to think positively about the people you lead and to be a leader who serves others over self-interest. These are based on six behaviors that are essential to serving people well and delivering superior performance: passion, listening, planning, coaching, accountability, and humility. These behaviors define how we will work together.
Bachelder lists five benefits to becoming a Dare-to-Serve Leader:
People will tell you the stuff you need to know because they have taken the time to get to know their people well.
People will be more likely to follow your bold vision because they know you have their best interests at heart.
People will actually do the stuff you need to get done without a lot of reminding because they are not "leader dependent."
People will perform better because they have a safe environment focused on personal growth, promotion opportunities, and the "fun" of winning together.
People will watch out for you and protect you from yourself because they, like you, are doing what's right for the team.
What do you believe enough to act on? These are core beliefs that are so important to you that you will act promptly to rectify the situation when they are violated. Dare-to-Serve Leaders act on three core beliefs: human dignity, personal responsibility, and humility.
We tend to be careless with human dignity says Bachelder. We don't listen, we are impatient, we publicly criticize, and joke in ways that hurt. Push your daily situations through a filter of what you would like someone to do for you.
"Lack of personal responsibility in a leader is just another form of self-absorption." You must look at yourself and understand your own imperfections. "You will have no capacity to serve others unless you can take responsibility for your own self."
Humility is the "behavior" that makes it all work. "We agreed that we are not naturally humble either. That means there are plenty of days we are hell to work for, too. Therefore, humility must be a principle that we have conviction about—or we will never demonstrate humility to our teams. This principle will forever be an aspiration, not an accomplishment. As hard as we try, we will repeatedly fall short."
Bachelder has included 40 reflections for Dare-to-Serve Leaders to help you think about the leader you are.
How do you gain meaningful feedback from those you serve?

How well do you know the people who work for you? Do you know the three or four events of their lives that have shaped who they are today?

What is your daring aspiration for your team that is beyond what they know how to accomplish?

How would your daily behaviors be different if you put them through a filter of serving others well?

In short, "If you move yourself out of the spotlight and dare to serve others, you will deliver superior performance results."
* * *


Follow us on
Instagram
and
Twitter
for additional leadership and personal development ideas.
* * *

Posted by Michael McKinney at 11:30 PM
Permalink | Comments (0) | This post is about Culture , Leadership