Consider: Harnessing the Power of Reflective Thinking in Your Organization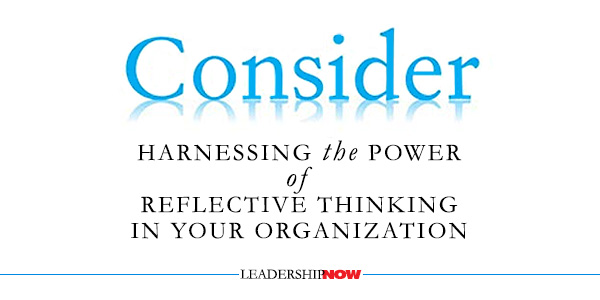 PETER SENGE, founder of the Society of Organizational Learning and senior lecturer at the MIT Sloan School of Management, once observed, "Most managers do not reflect carefully on their actions." Most managers are too busy "running" to reflect.
While reflection seems to have no place in a competitive business environment, it is where meaning is created, behaviors are regulated, values are refined, assumptions are challenged, intuition is accessed, and where we learn about who we are.
Some of the greatest barriers to getting the results we want lie within us. Growth happens when we stop repeating our habitual patterns and behaviors and begin to see things in a new way and in the process, discover the power to create the results we want. That makes Consider: Harnessing the Power of Reflective Thinking in Your Organization, one of the most important books you'll read this year.

Author Daniel Patrick Forrester states, "
Stepping away from the problem—and structuring time to think and reflect—just may prove the most powerful differentiator that allows your organization to remain relevant and survive
…. The best decisions, insights, ideas, and outcomes result when we take sufficient time to think and reflect….Only by carving out think time and reflection can we actually understand, in an entirely different context, the actions we take."
He defines think time as "the purposeful elevation of chunks of our work time, forged within densely packed schedules. It forces the consideration of core significant and pending decisions, outside of cursory overviews and immediate response…. Reflection is the deliberate act of stepping back from daily habits and routines (without looming and immediate deadline pressures), either alone or within small and sequestered groups. It's where meaning is derived through reconsideration of fundamental assumptions, the efficacy of past decisions and the consequences including the downside of future actions. It's where space is given for the 'totally unexpected' to emerge."
Even if we can agree on the value of think time, we still regard it as a luxury. There's just no time. But what emerges from Forrester's research is the fact that we can't afford not to. It is at the core of what allows a business to thrive. It's what we don't know that has a disproportionate impact on us personally and organizationally. We don't really see the reality we face. Reflection in effect expands our perspectives and thus reveals to us more options and that gets to the heart of what leadership is all about. The point is to make the unseen seen so we can act on it.
Forrester interviewed Sarah Sewall who worked with General Petraeus and others to rewrite the military's counterinsurgency doctrine. Sewall noted, "We are now in a world of increasing specialization, where people get narrower and narrower in their viewpoints in order to become more expert and 'useful.' My view is that people become more myopic in how they can think about problems and solutions. We wind up shuttered in our ability to think about possibilities." This tendency is best counteracted by think time and reflection; being able to back away and incorporate more and varied thinking.
Forrester asks, "What is the last document or strategy you can point to as a 'product of reflection' built with all parts of the organization and senior-level involvement? If you can't cite one, it may indicate a culture that values immediacy and the short term over reflection and scalable problem-solving."
Recognizing the need for reflection and actually doing it are two different things. Reflection is a discipline. General Petraeus told Forrester that "he forces bursts of reflection into his day, where he pauses to read, think, and then moves to the next iteration—recognizing that thoughtful insights are not born through real-time analysis."
Forrester suggests that we set time aside for a meeting with oneself. "It isn't hard to book a meeting with yourself, when you are off-limits to everything but your thoughts." He notes too, "The power of reflection lies not in how much time we allocate to it. The power of reflection lies in how we choose to use that time and what structure we bring to the fleeting disjointed moments we are afforded."
While some situations required his immediate action, Forrester describes how Lincoln "developed ways to force time to think (if even only for a few minutes) before acting. Even Lincoln had to resist the "instantaneous nature of the telegraph."
Some organizations he has studied have adopted a no internal e-mail Friday policy and other ways to temporarily disconnect from technology. Although these ideas may not work for you, the point is made so that you might consider the impact these technologies are having on the productivity and well-being of your staff. There is always one more e-mail and it will control you if you let it.
"When overworked people declare that they 'just don't have time to think,' leaders have a choice: They settle for the status quo and declare that it's the best way the world works today, or they can insist that reflection is a strategic business enabler," says Forrester. As an organization, you can either educate for it, make it an expectation—a cultural norm—or treat it as a "do it on your own time" activity and pay the price. Leaders need to understand and demonstrate by example that reflection—taking time to consider—is not wasted time.
Reflection is the first step in coming to understand how we are connected to our outcomes. Until we see the relationship between the two, we cannot make deep, lasting change and bring thoughtful behaviors to bear on the situations we find ourselves in. Our thinking creates our reality. If we do not reflect on our thinking we stand to miss our connection to the whole.
Consider offers a way to break the pattern of continuous partial attention that seems to be our default position in this technological age. It helps to disrupt the habitual thinking that drowns out the reflective, critical thinking we need to become fully present and effective. Consider isn't a fad. It is the bedrock of successful leadership and living.
* * *
Upcoming: I asked some leading minds about the discipline of reflection. So, for the rest of the week, I'll share their thoughts on this important topic. Look for valuable insights from John Kotter, Mark Sanborn, Brian Orchard, Marshall Goldsmith, John Baldoni, Tom Asacker, James Strock, and Jeremy Hunter.
* * *

* * *
More in this Series:


  Taking Another Look: Leading Minds on Reflection Part 4


  Taking Another Look: Leading Minds on Reflection Part 3


  Taking Another Look: Leading Minds on Reflection Part 2


  Taking Another Look: Leading Minds on Reflection Part 1
* * *


Like us on
Instagram
and
Facebook
for additional leadership and personal development ideas.
Posted by Michael McKinney at 01:57 PM
Permalink | Comments (0) | TrackBacks (6) | This post is about Human Resources , Leadership , Learning , Personal Development , Thinking