The Power of Meeting People Where They Are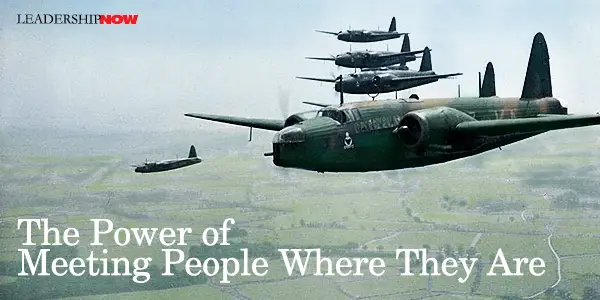 IN Split-Second Persuasion, Cambridge psychologist Kevin Dutton asks why some of us are better at the art of persuasion than others. He recounts a story about Winston Churchill's encounter with war hero James Allen Ward that illustrates the power of meeting people where they are:
In the summer of 1941, Flight Sergeant James Allen Ward was awarded a Victoria Cross for clambering onto the wing of his Wellington bomber and—while flying 13,000 feet above the Zuider Zee—extinguishing a fire in the starboard engine. He was secured at the time by just a single rope tied around his waist.

Some time later, Churchill summoned the shy, swashbuckling New Zealander to Number 10 Downing Street to congratulate him on his exploits.

They got off to a shaky start.

When the fearless, daredevil airman—tongue-tied in the presence of the great man—found himself completely unable to field even the simplest of questions put to him, Churchill tried something different.

"You must feel very humble and awkward in my presence," he began.

"Yes, sir," stammered Ward. "I do."

"Then you can imagine," said Churchill, "how humble and awkward I feel in yours."
* * *


Like us on
Instagram
and
Facebook
for additional leadership and personal development ideas.
* * *

Posted by Michael McKinney at 10:12 AM
Permalink | Comments (0) | This post is about Communication , Human Resources