Triple Crown Leadership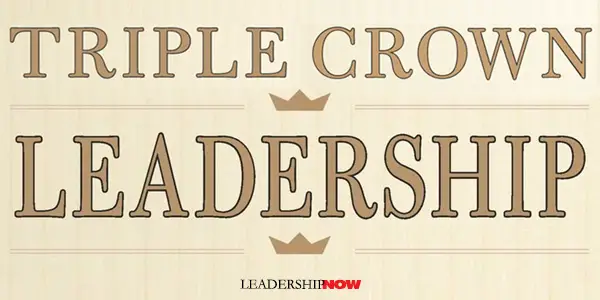 WITH far too much failed leadership on display, leaders should commit to building a different brand of leadership—Triple Crown Leadership, say authors Bob and Gregg Vanourek. Triple Crown leaders have the goal of building and sustaining organizations that are excellent (high performance), ethical (do the right thing), and enduring (stand the test of time). As with the Triple Crown in thoroughbred horseracing, it is an epic quest that is audacious but not impossible.
Triple Crown leaders integrate five practices that build excellent, ethical, and enduring organizations:
Seek "head and heart." The first step is putting together a triple crown team. Typically we look for people with the right "head" skills (experience, education, expertise), but they must have the intangible "heart" qualities (character, integrity, courage).
Post "colors." An organization's "colors" are its purpose, values, and vision. Leaders must engage all in developing the colors through a collaborative process, thereby increasing ownership and buy-in. People are free to act as long as they do so in accordance with the colors.
Flex between "steel and velvet." Triple Crown leaders cannot remain stuck in their normal style of leadership. They lead by flexing between the hard and soft edges of leadership, sometimes in command, other times willingly soliciting and following the leadership of others. If your actions are consistent with the colors—purpose, values, and vision—you will not appear inconsistent in your approach.
Unleash "stewards." Stewardship is everyone's responsibility. It's not empowerment handed down from the top but a culture where the freedom to act is expected as long as they act in accordance with the shared values and vision of the organization. It's automatic. "Triple Crown leadership ebbs and flows dynamically from person to person—up, down, and around—depending on the person's knowledge, skills, passion, and the nature and urgency of the challenge at hand." (Look on pages 114 to 123 for lists of specific ideas on how boards, CEOs, managers, and people without authority can become Triple Crown stewards.)
"Align." Alignment builds trust. Alignment speeds up the process. Alignment should be collaborative, start where you are and cascade, and be flexible. It requires some finesse to get people on the same page while protecting the innovative mavericks and creating the conditions for operating in a state of flow.
There is a big difference between completing an alignment exercise at a one-shot retreat and actually creating an aligned organization, between having a purpose statement and being purpose-driven, between having values and upholding them when the pressure is on, between saying you are vying for the triple crown and actually aligning the enterprise to achieve it.
The five triple crown leadership practices are related and mutually reinforcing. Building excellent, ethical, and enduring organizations requires a commitment from many people over many years, and the view that leaders exist at all levels.
* * *


Like us on
Instagram
and
Facebook
for additional leadership and personal development ideas.
* * *

Posted by Michael McKinney at 10:31 PM
Permalink | Comments (0) | This post is about Human Resources , Leadership Development