From Values to Action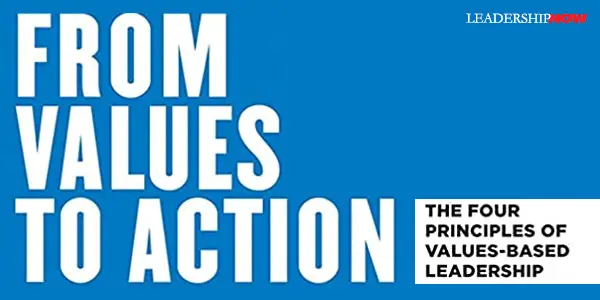 FORMER chairman and chief executive officer of Baxter International, Harry Kraemer, has written a genuine, back-to-basics book on value-based leadership: From Values to Action. He presents four interconnected principles that build on and contribute to each other:
Self-Reflection is the most important and is central to your leadership. "If you are not self-reflective, how can you truly know yourself?" writes Kraemer. "If you do not know yourself, how can you lead yourself? If you cannot lead yourself, how can you possibly lead others?"
Self-reflection allows you to transform activity into productivity for all the right reasons. It means "you are surprised less frequently." It is essential in setting priorities. You can't do everything. So reflection makes it possible to answer key questions like What is most important? and What should we be doing? in a way that is in line with your strengths and values and organizational goals.
Engaging in self-reflection on a regular, ongoing basis (preferably daily) keeps you from becoming so caught up in the momentum of the situation that you get carried away and consider actions and decisions that are not aligned with who you are and what you want to do with your life.
Balance and Perspective is the ability to understand all sides of an issue. Pursuing balance means you will have to grasp the fact that leaders don't have all the answers. Kraemer says, "My task was to recognize when a particular perspective offered by one of my team members was the best answer….Leadership is not a democracy. My job as the leader is to seek input, not consensus."
Because he believes we are more effective if we balance all areas of our life, he prefers the term "life balance" over "work-life balance." It's not an either-or proposition. "When you identify too closely with your work, you can easily lose perspective and become unable to look at all angles in a situation." He recommends implementing a "life-grid" to keep track of where you are spending your time and to hold yourself accountable.
True Self-Confidence is know what you know and you don't know; to be comfortable with who you are while acknowledging that you still need to develop in certain areas. (Comfortable not complacent.) Why TRUE self-confidence?
There are people who adopt a persona that might make others think that they have self-confidence, but they are not the real deal. Instead, they possess false self-confidence, which is really just an act without any substance. These individuals are full of bravado and are dominating. They believe they have all the answers and are quick to cut off any discussion that veers in a direction that runs contrary to their opinions. They dismiss debate as being a complete waste of time. They always need to be right—which means proving everyone else wrong.
Genuine Humility is born of self-knowledge. Never forget where you started. "Genuine humility helps you recognize that you are neither better nor worse than anyone else, that you ought to respect everyone equally and not treat anyone differently just because of a job title."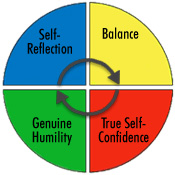 After describing each of these principles, Kraemer explains how these four elements play in everyday situations such as talent management and leadership development ("The values based leader is looking for people who exhibit the values that are most important to her."), setting a clear direction (You've been tasked with creating a quick strategy, the first step is to listen. "This is precisely the time that you need to draw upon the capabilities of the excellent team you've put together."), communication ("Never assume you have communicated enough."), motivation ("What you must do is relate to others by letting them know who you are and the values you stand for."), and execution ("As you become a leader, you will shift from knowing the right answers to asking the right questions.").
Kraemer describes a values-based leader well: "Self-reflection increases his self-awareness. Balance encourages him to seek out different perspectives from all team members and to change his mind when appropriate in order to make the best possible decisions. With true self-confidence, he does not have to be right, and he easily shares credit with his team. Genuine humility allows him to connect with everyone because no one is more important than anyone else."
From Values to Action is an outstanding book and filled with important concepts that any would-be leader would benefit from.
* * *


Like us on
Instagram
and
Facebook
for additional leadership and personal development ideas.
* * *


Posted by Michael McKinney at 04:13 PM
Permalink | Comments (0) | This post is about Communication , Human Resources , Leaders , Leadership Development , Management , Personal Development , Positive Leadership