Humility Casts a Wide Net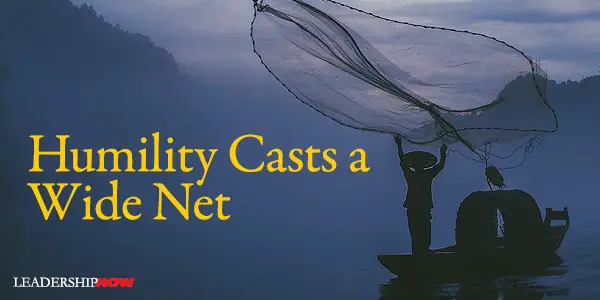 HUMILITY casts a wide net and makes possible the work of leadership. Nothing facilitates community, collaboration, and innovation like humility.
In Humility is the New Smart, Ed Hess and Katherine Ludwig define humility as "a mindset about oneself that is open-minded, self-accurate, and not all about me, and that enables one to embrace the world as it is in the pursuit of human excellence."
Their definition encompasses the mind of a leader that will be able to lead in a changing and uncertain world. Humility is inclusive. It is inclusive of others ideas, others needs, others strengths, other contributions, and the realities that exist outside of our own head. A humble leader asks more questions and is open to more answers thus deepening the pool of resources they have to draw upon. But it requires a strength of character. As senior vice president of the NBA's Orlando Magic, Pat Williams writes in Humility: The Secret Ingredient of Success:
Humble leaders are strong enough to listen to other points of view.


Humble leaders are strong enough to admit their mistakes and learn from them.


Humble leaders are strong enough to celebrate their achievements of others.


Humble leaders are strong enough to surround themselves with talented people without feeling threatened or diminished.
Additionally,
Humble people treat others as equals.


Humble people don't claim to know everything.


Humble people are better team players.


Humble people are willing to set aside their egos.
Humility is the antidote to insecurity that often plagues us. A lack of humility actually drives insecurity. Humility makes your strengths productive and multiplies the strengths of others. Humility acknowledges a world beyond our own thinking and minimizes our own limitations. A good leader knows this and acts accordingly to produce the best results.
Do you have the strength to be humble?
* * *


Like us on
Instagram
and
Facebook
for additional leadership and personal development ideas.

Posted by Michael McKinney at 10:50 PM
Permalink | Comments (0) | This post is about Leadership , Personal Development