Michael Lombardi's Lessons in Leadership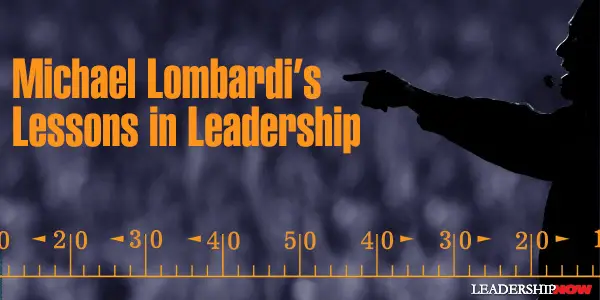 M
ICHAEL LOMBARDI has been an American football executive for decades. He has worked on the staffs of NFL legends Al Davis, Bill Walsh, and Bill Belichick and with Nick Saban while with the Cleveland Browns. He is also a media analyst writing for Bill Simmon's
The Ringer
, where he also hosts his top-ten sports podcast,
GM Street
.
In Gridiron Genius, you will certainly get the inside scoop on the game of football, but it's much more than that. As a three-time Super Bowl champion, Michael Lombardi provides lessons in organizational culture, team building, strategy, and character. His philosophies on how to build championship teams were foundational for the teams built by both Walsh and Belichick.
Organizations of all types will benefit from the insights found here. "Football is ultimately a business, and as in any successful business the most important ingredients are a sound culture, a realistic plan, strong leadership, and a talented workforce." So let's look at some of the leadership lessons to be found here.
The main lesson that comes through his experience with great coaches and owners is that culture comes first. "If you haven't created an underlying ecosystem of excellence, short-term success is all it will ever be."
On Bill Walsh building the San Francisco 49ers in 1979: "From the talent on and off the field, to the quality of the workplace, to the practice fields. No detail was too small for Walsh to consider because, to his assembly line way of thinking, only the sum of them all could produce the organization he wanted. As he was fond of saying, if he managed to perfect the culture, the wins would take care of themselves."
He writes: "Character assessment is by far the hardest challenge for team builders. More than any other factor, inaccurate character assessment is why draft boards are to this day littered with so many mistakes. For starters, let's be honest, there's a sliding scale of morality in the NFL (as in every industry), in which the more talented a player is, the more he can get away with."
"Each player retains information differently, and it's the coach's job to determine the best way to instruct him."
What Makes a Great Quarterback?
A winning way. (Winning is a habit.) A thick skin. (The measure of who we are is how we react to something that does not go our way.) Work ethic. (Your best player has to set a tone for intolerance for anything that gets in the way of winning.) Football smarts. (A quick mind come with preparation. You prepare so well that you don't have to think; you just react.) Innate ability. (Born with it quality: Walsh couldn't define it, but he knew it when he saw it.) Carriage. (Quarterbacks have to inspire. They can always look as if they have it all under control and that somehow they will figure out how to lead the team to victory. No one wants to follow a sulker.) Leadership. (Quarterbacks who fail to gain the respect of teammates leave a team rudderless.)
Building a team: "A big part of Walsh's genius was his uncanny ability to spot a quarterback in a crowd. Even from a distance and after only a few throws, he could sense immediately if a quarterback could run his offense. Guys like Walsh and Belichick are unusual this way: They can visualize how skill sets fit in their schemes in a way that both maximizes those abilities and fuels the system."
From Bill Belichick:
"Although practice doesn't make perfect, it gets you closer to perfection each time you do it."
"We aren't collecting talent; we are building a team."
Mental Toughness: Doing what is best for the team when it might not be the best for you. If players can fight past exhaustion, if they can focus when they're completely drained, well, that's mental toughness.
On Bill Walsh:
"His meticulousness was evident everywhere."
"Walsh opted for less experienced men who shared his curiosity and displayed a willingness to learn his system and methods."
What Makes a Great Coach?
Command of the Room. Followers need something to commit to. A leader has to have a plan. On Nick Saban at Cleveland: He had a strong plan and an effective way of communicating that plan, and his ability to be self-critical earned the players' trust in a way that rivaled their feelings for Belichick.
Command of the Message. What good is the plan if you can't talk about the plan? Players can't accomplish anything unless they can visualize the path. Delivery isn't as important as meaning.
Command of Self. Personal accountability is the ultimate sign of strength. Sophocles sums it up best: "All men make mistakes, but a good man yields when he knows his course is wrong and repairs the evil. The only crime is pride." Ego is the leading cause of unemployment in the coaching world.
Command of Opportunity. Becoming an NFL head coach is a process. You learn on the fly. In the beginning, it is likely you'll be bad at it. You just have to keep working at it until you get good and pray that you don't end up a one-hit wonder.
Command of the Process. A leader must be fair and consistent. When rule don't apply to everyone, the ensuing chaos collapses whatever foundation a leader has tried so hard to build.
In a particularly good section of the book, Combating Complacency he talks about how Belichick and Walsh fight complacency. This was interesting: "Whether the Patriots have just won the Super Bowl or not, the first thing Belichick does is wipe the slate clean. One of his favorite sayings is, 'To live in the past is to die in the present.' It's why you see no Super Bowl trophies as you walk through the players' entrance and why all the photos from the previous season are removed as soon as the season is over. That clean slate demands a trip back to basic principles and fundamentals after a detailed examination of the current process." He adds, "What impressed me the most about Belichick and Walsh in their self-awareness. With the same kind of success in the NFL many lesser men have become close-minded, authoritarian, and lazy."
* * *
Of Related Interest:


  Leadership is Destroying Culture by Michael Lombardi at TEDx


  4th and Goal Every Day
* * *


Follow us on
Instagram
and
Twitter
for additional leadership and personal development ideas.
* * *

Posted by Michael McKinney at 12:16 AM
Permalink | Comments (0) | This post is about General Business , Human Resources , Leadership , Teamwork