Nailing It: How History's Awesome Twentysomethings Got It Together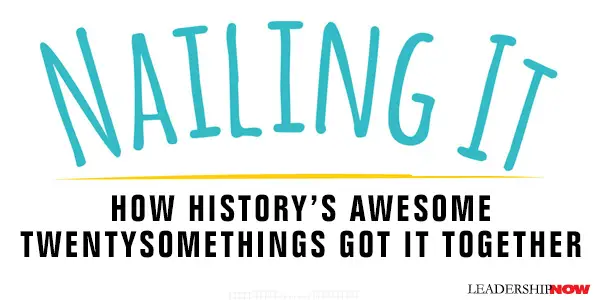 ROBERT DILENSCHNEIDER looks at the lives of twenty-five accomplished men and women and asks what they were doing at around age 25 that led them to become the people they became in Nailing It: How History's Awesome Twentysomethings Got It Together. Specifically, he looks at the influences like education, parents, friends, and events in the world that helped them make the choices they made.
Businessman and former ambassador Donald Blinken explains the motivation behind this book in the foreword:
This book was born out of Bob Dilenschneider's concern about how demoralizing it is for many young people to consider their futures. Young people that believe that their education may be useless and that their career opportunities have fallen apart before they have even started out. The book is written to demonstrate that many of history's most accomplished people were in similar situations when they were at about the same stage in life. Some, without knowing it, were already on the path to success. Some had fallen off that path and had to find it again. Some didn't even know that for them there was a path. Yet, in the end, all of them found their way and made memorable contributions.
Success is rarely a straight line. There is no ideal path to follow. The key is to avoid distractions, accept criticism as information to guide you, and build resilience to inevitable setbacks.
Here's a short excerpt provided by the publisher from the chapter about Roberto Marinho, who at an early age inherited the Brazilian newspaper his father had founded. Under enormous pressure, he showed the patience and determination to learn his craft and, as a result, rose to a position of national prominence.
For nearly seventy years, Roberto Marinho had dominated print journalism and the radio and television industries, building on the shaky foundation of inheriting—when he was barely into his twenties—the newspaper that his father had founded just weeks before he died. His media properties achieved immense clout in Brazil and beyond, rivaling the status of their American counterparts. His personal wealth, in 2000, was estimated at $6.4 billion.

To tell you the story of how Roberto Marinho came to be so influential and successful, I'll start with his newspaperman father, Irineu Marinho. As the son of such a man myself, I can imagine the energy—and family support—it took to accomplish what Irineu did.

In rapid-fire succession, the salient facts of Irineu's career are these: As a student at the age of 15 in 1891, Irineu founded a branch of a Portuguese royal literature society in his birthplace of Niteroi, Brazil, as well as two newspapers; he became a correspondent for a third newspaper the next year. In 1894, he moved to Rio de Janeiro and continued his career with the established publications Diario de Noticias, A Tribuna, and A Noticia. In 1903, he married; his first child, Roberto, was born on December 3, 1904 (five additional children would follow). In 1911, he cofounded A Noite, the first evening newspaper in Rio de Janeiro. In 1922, he was jailed for four months for helping instigate the revolta tenentista of that July. In 1924, he took his family to Europe in search of improved publishing techniques, more sophisticated equipment, and so forth. During his absence, a coup of sorts removed him from A Noite. In 1925, he founded O Globo—and died of a heart attack in August 1925, less than a month after the first issue of O Globo. He was 49, his son and heir Roberto not quite 21.

Roberto had accompanied his father to Europe. Trained as a joiner and a mechanic and no stranger to hands-on work, Roberto acted as Irineu's secretary during the prospecting trip and then took a job as a cub reporter on the new newspaper.

What was the fledgling reporter to do now? He knew what was expected of him: to fill his father's shoes. Did he want such unexpected journalistic and business responsibility at such a young age? And at a time of personal grief? Clearly, newspaper publishing, a strong work ethic, and entrepreneurship were in Roberto's DNA, but was it enough? As devoted as he may have been to his father, did Roberto have different dreams for his own future that he put aside?

What a push-pull Roberto must have experienced! Many of us have been in a similar situation in our lives. To the young man's credit, he seemed to embrace his destiny, something not everyone can do, or wants to do. Moreover, he was humble about it.

According to a retrospective on his life published in The Independent, Marinho "insisted on working his way up from the bottom, learning all aspects of the business." He had been at his father's side the entire time when O Globo was being founded. Now he would step forward and follow in his footsteps, but respectfully, earning his place. A journalist named Eurycles de Mattos was put in the position of editor-in-chief, with Roberto as his secretary. He took that position because of his inexperience, but he treated it as a learning opportunity. And then, in 1931, with the death of de Mattos, Roberto, now 26, took over the position of editor-in-chief.

After 1931, Roberto Marinho never slowed down. He quickly assured some financial security for O Globo by republishing U.S. comics in Portuguese and went on from there.

"A mix of pragmatism and stubbornness helped him build his empire," wrote The New York Times in its obituary. The "Brazilian Media Mogul" methodically increased O Globo's circulation, expanded into radio (1954) and television (1965), and, in the five years before his death, founded successful tabloids in Rio and São Paulo. To all that in the late 1960s he added a string of magazines and a publishing house.

But in the long run, it was the Globo television network, known as Rede Globo, that became Marinho's most important enterprise. Rede Globo signed up 113 affiliated stations, extending its reach into every corner of Brazil—according to one analysis, it eventually covered 99.98 percent of the country— making Roberto one of the most influential men in the nation regardless of who the president was.

One key to TV Globo's popularity was its telenovelas, well-crafted soap operas that were hits not only in Brazil, but all over the world, including in Britain and the United States. And the network's populist news coverage gained enormous audiences because, Marinho said, it gave Brazilians "a new way of viewing the world."
Dilenschneider also looks at the lives of Mozart, Mary Shelley, Grant, Einstein, Helen Keller, Elizabeth Kenny, Branch Rickey and Jackie Robinson, Coco Chanel, Golda Meir, Edith Piaf, Akio Morita, Audrey Hepburn, Christa McAuliffe, Steve Jobs, among others.
* * *


Follow us on
Instagram
and
Twitter
for additional leadership and personal development ideas.
* * *


Posted by Michael McKinney at 09:40 AM
Permalink | Comments (0) | Personal Development