Want an Ideal Team Player? Find an Introvert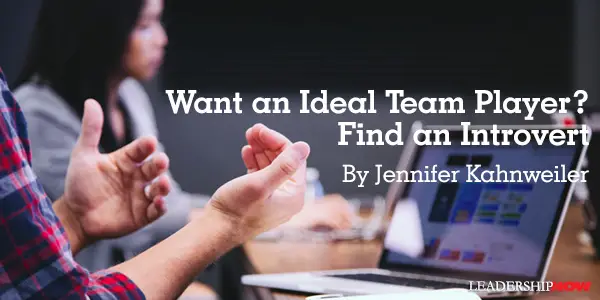 WHILE the introverts at the office may not be top-of-mind when it comes to assembling a project team, you could be overlooking valuable contributors. Too often, the ideas of introverts are drowned out, yet when sought out, can have true merit.
Management guru and prolific author, Patrick Lencioni, wrote about the three characteristics of an ideal team player – hungry, smart, and humble. That third trait, which includes sharing credit and defining success collectively rather than individually, is one most often associated with introverts.
A measure of an effective team is that it utilizes all team members' strengths. Introverts are keen observers, listeners, and deep thinkers. Without unlocking the introverted voice, teams won't achieve their true potential. Teams involving both introverts and extroverts get exponentially more accomplished. It's like having one group that can see close up and one that can see into the distance.
Here are five approaches to more inclusive team meetings that insure introverts' input:
1. Implement a 1-minute rule. Ask that each team member speak for 1 minute on a work-related topic. In structuring team meetings so that everyone has a chance to contribute for the same (short) amount of time, introverts are ensured the same opportunity to be heard as their extroverted counterparts.
2. Pair up. Pat Wadors, chief talent officer at ServiceNow, structures team meetings to be more inclusive by pairing up team members. They can privately check in with each other via chat or a program like Slack to see if either needs more explanation or context. Extroverted team members can advocate for introverts if they want to make a comment and are having trouble interjecting their thoughts. Additionally, the buddy system helps to increase compassion and understanding among team members and build one-on-one relationships.
3. Create team member user manuals. Consider the creative technique of asking team members to write their own user manuals that help others understand how they like to work. It can include their collaboration style, ideal times of the day for group and solo work, their motivations and stressors, and their interests in and outside of work. User manuals are a great tool for introverts – who often prefer written communication – to let the rest of the team know their preferences.
4. Consider teams of two or three. Introverts often prefer one-on-one or small-group meetings to larger ones. Instead of all-person team meetings all of the time, consider breaking up your team into smaller groups. These groups of two or three can focus on specific tasks. Encouraging these smaller groups to take walking meetings may also make it easier for introverted team members to speak up. Walking while talking helps to get introverts out of their head and facilitates the flow of ideas as they think on their feet (literally).
5. Foster transparency. Consider using a design or system map to get both introverts and extroverts involved. According to Service Design Tools, this is a representation showing in a single frame all the different actors involved and their mutual links – such as flows of materials, energy, information, money, documents, and more. You can display it and add or remove Post-it notes to provide supplementary information.
Too often, introverts are expected to yield the floor to extroverts who are very comfortable with speaking up. Teams who include everyone's voice will engage the introverts on the team. The team will find a well of resources in their quiet, calm contributors as well as their expressive, energetic ones.
* * *

Jennifer B. Kahnweiler
, PhD, is an author, Certified Speaking Professional, and one of the top global leadership speakers on introverts. She helps organizations harness the power of introverts. Her new book is,
Creating Introvert-Friendly Workplaces: How to Unleash Everyone's Talent and Performance
. Watch a short video about it here. Her previous bestselling books include The Introverted Leader, Quiet Influence, and The Genius of Opposites. Her books have been translated into 18 languages. She has been featured in the Wall Street Journal, Forbes, and Fortune. Learn more at
jenniferkahnweiler.com
.
* * *


Like us on
Instagram
and
Facebook
for additional leadership and personal development ideas.
* * *


Posted by Michael McKinney at 03:10 PM
Permalink | Comments (0) | This post is about Human Resources , Teamwork