Grace: A Leader's Guide to a Better Us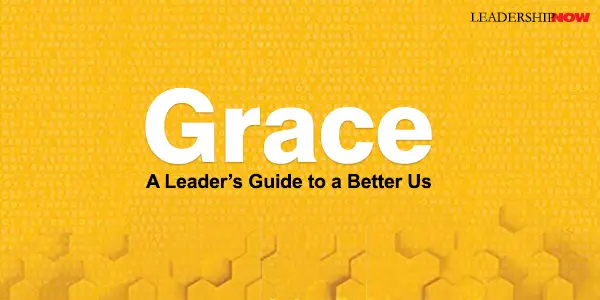 GRACE, a concept present in all of the world's major religions, has a divine meaning. Grace, in a secular sense—that is on a human level—is about perspective. A perspective larger than ourselves. A perspective that reaches to a purpose beyond who we are alone. In short, our connectedness.
Grace is a critical part of who great leaders should be. To that end, John Baldoni has tackled for us in Grace: A Leader's Guide to a Better Us, an attribute that is in short supply today. Grace is something all leaders should model for the benefit of those around them so that it spreads to society in general.
Grace is foundational to service. Baldoni writes:
Love, sacrifice, truth, and courage are virtues made actionable by grace. We may be disposed to do what is right; grace gives us the impetus to act upon doing it. Grace then becomes the inspiration for treating individuals with generosity, respect, and compassion. It manifests itself as action in the name of others, and it energizes us to act upon our beliefs.
To help us better understand grace and to help us intentionally apply it in our leadership, Baldoni explores grace from five perspectives with this acronym:
G is for Generosity: the will to do something for others.
R is for Respect: the dignity of life and work.
A is for Action: the mechanism for change.
C is for Compassion: the concern for others.
E is for Energy: the spirit that catalyzes us.
Generosity
Gracious people give of themselves. Gracious people leverage who they are and what they have for the benefit of others. Baldoni shares a great quote from British Prime Minister Benjamin Disraeli, "The greatest good you can do for another is not just to share your riches but to reveal to him his own."
Gracious leaders share time, knowledge, and power. They cultivate a selfless approach to life. Generosity emanates from an abundance mindset. A selfless person, even in the midst of personal adversity, can find something to share with others. That attitude is contagious.
Respect
Self-awareness opens the door to respect for others. A fully self-aware person knows her faults as well as her strengths. Such awareness compels the self to acknowledge the dignity of others." Humility plays a big part here. Respect and self-respect fuel each other. They grow together.
Action
Grace is intentional. A reactive mind rarely manifests grace. While grace that has been shown to us comes freely, it requires effort for us to generate it ourselves. Grace means rising above a perceived slight.
Grace is often manifested in clarity of purpose and civility. Civility is a decision we make. "No matter what leaders may feel inside, they think before they speak. They focus not on themselves, but on the needs of others—on healing." Instilling civility in the workplace is the job of leaders.
Compassion
Gracious people have the capacity to forgive and show mercy. "Grace enables us to take the higher road, to think more clearly." It meets rage with love and civility.
Gratitude enables compassion—both gratitude expressed and felt. "Gratitude is that capacity to care. We need to reframe our lives with a constant awareness of just how important feeling gratitude within ourselves is because it actually helps our overall well-being."
Energy
Grace requires energy. "It renews itself through practice as well as by taking in life, doing one's best, enjoying the highlights, mourning the losses, and do so in the full spirit of life. In forgiveness, mercy, joy, and humor." Grace draws energy from a positive outlook and an abundance mindset.
When we demonstrate grace in our leadership, it spills into other areas of our life as well because it is an approach to life. Our example encourages others to begin to think that way as well. Grace—in all of the dimensions Baldoni explores in this book—is a value that has fallen on hard times. It is time to revive it in our personal lives, in the workplace, social media, and in public discourse.
Grace celebrates grace as well as advocates for it. Baldoni shares many examples of people from all walks of life who demonstrate grace in their lives. They are an inspiration to us all.
Grace reduces the space between us. Our environment often pushes us into negativity; into the differences between us. Grace intentionally overlooks the negative and leverages the positive. It finds the connection and promotes it.
Baldoni breaks the often intangible idea of grace into down-to-earth actionable behaviors that we can all intentionally implement into our lives. You will find a self-assessment tool of 20 questions to help you take an honest look at how much you have allowed grace to fill your thoughts and behaviors.
* * *


Like us on
Instagram
and
Facebook
for additional leadership and personal development ideas.
* * *


Posted by Michael McKinney at 01:08 PM
Permalink | Comments (0) | This post is about Leadership Development , Personal Development