Motivating the "What's In It For Me" Workforce
: Manage Across the Generational Divide and Increase Profits
Cam Marston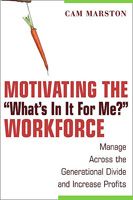 Format:
Hardcover, 240pp.
ISBN:
9780470124147
Publisher:
Wiley
Pub. Date:
May 18, 2007
Average Customer Review:

For Bulk Orders Call: 626-441-2024

Description and Reviews
From
The Publisher:
All generations are not alike. While Baby Boomers base their vision of professional success on climbing hierarchical corporate ladders, Gen-X and New Millennial workers view success quite differently. These younger workers care little for tradition, placing a higher value on individuality, personal freedom, and the professional flexibility and creativity it takes to succeed in a globalized economy.
This generational divergence creates a communication challenge for many of today's managers. The promise of slowly climbing the company ladder no longer has the motivational force it once did, and the traditional management structure is quickly slipping into obsolescence. Younger workers are less loyal to their organizations, quicker to adapt to cultural and technological changes, and more possessive of their free time.
In
Motivating the "What's In It For Me?" Workforce
, Cam Marston reveals how to diffuse the conflict between managers with one set of expectations and employees with another. He shows managers how to deal with differing generational expectations regarding promotions, incentives, recognition, and prioritization of work itself, bridging the gap between managers raised in one tradition and workers raised in another.
Based on his long experience consulting with and interviewing managers and workers of every age, Marston provides detailed guidance on motivating every employee to achieve peak performance—no matter what generation they belong to. Packed with guidance on bringing the generations together to achieve organizational success, this practical guide offers concrete steps for solving generational problems in any workplace.
It takes more to motivate today's "What's In It For Me?" workforce, but connecting with younger generations is vital for any manager's success—as well as any organization's. Marston helps you bridge that gap, so you can get more out of every worker, no matter their age and attitude.

Reviews
"The information on leading and managing generations found in this book is invaluable to all executives today. The war for talent has become increasingly fierce. Attracting and retaining this talent is critical to a successful global company. This book is a masterful tool for developing the skills required for managing multigenerational teams. It is a must-have for executives at all levels who are responsible for a company's greatest asset: its people."
—Phebe Port, Vice President Global Management Strategies,The Estée Lauder Companies
"Motivating the 'What's In It For Me?' Workforce has given our managers good ideas about leading the different generations in our workplace, particularly the New Millennials who we at Enterprise are especially reliant upon to grow our business every single day and, ultimately, become our company's future leaders."
—Marie Artim, Assistant Vice President Recruiting, Enterprise Rent-A-Car
"After Marston presented to our management group, approximately 400 individuals, and after we responded to the clamor for his book, it became commonplace to hear people discussing solutions to problems based on generational considerations. There aren't many people discussions that occur today where we don't at least consider differences between Baby Boomers, Millennials, etc. He really changed our way of thinking!"
—Anne Donovan, U.S. HR LeaderSystems and Process Assurance, PricewaterhouseCoopers
"If you ever had any doubt that generational differences have an impact on go-to-market strategies, Marston's book, Motivating the 'What's In It For Me?' Workforce, provides thought-provoking realities you need to consider. This is a must-read . . . At our Sales Leadership Conference, Marston gave our top sales managers actionable ideas on how to gain better understanding of what drives today's workforce to take direct action and deliver exceptional results."
—Damian A. Thomas, General ManagerCorporate Sales Leader, General Electric Company

About the Author
Cam Marston
is a consultant who specializes in multigenerational communications and marketing, educating executives about the workplace expectations of different generations. He speaks to thousands of executives each year and leads intensive, on-site training sessions for companies.

Find Items On Similar Subjects

The Carrot Principle
: How the Best Managers Use Recognition to Engage Their People, Retain Talent, and Accelerate Performance

The Global Achievement Gap
: Why Even Our Best Schools Don't Teach the New Survival Skills Our Children Need - and What We Can Do About It