Building Company Culture: Alignment Leadership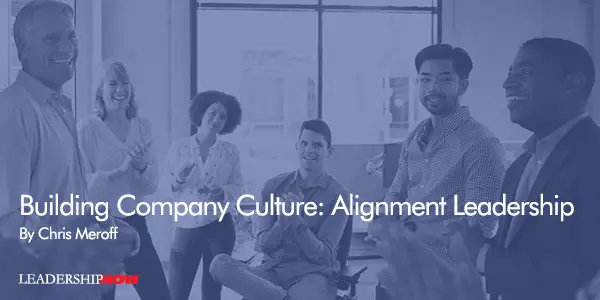 YOU PROBABLY HEAR the word culture a lot, but what does it mean? We'll discuss it here but I can definitively tell you this: Without a strong company culture, you can't create a fulfilling environment for your employees.
In fact, the whole idea of culture is a moving target. Yes, it's widely discussed, but somewhere between the discussion and the implementation something happens. Oftentimes that something is the watering down of the whole idea in the first place and casting it off as a soft science that doesn't really impact the bottom line.
Nothing could be further from the truth.
What Is Culture?
So, let's begin at the beginning. What is culture? My definition of culture is the sum of a group of people's beliefs, traditions, preferences, experiences, and hopes. Any time you put people together, a culture is created. Whether or not you agree with the traits of each person's worldview—their beliefs, traditions, preferences, experiences, or hopes—that worldview exists. Every person has their own unique worldview, and the way they see the world combines with others to create the culture of that group.
The individual traits of a person affect how they view the world and interact with others. For example, the word "trust" means one thing to one person and something different to another person, based on their experiences. The various meanings of trust within a group define their culture around that word. Imagine if a group of ten people working together had vastly different impressions of trust. What kind of culture would that create? Somebody has to clearly define it so that everyone knows what the end game is and how to achieve it.
And take note that this is just one word and one idea that can be misconstrued. How many others are there that we assume there is agreement on?
Don't assume. Define. Create a common language and an agreed upon taxonomy that there is no doubt about.
Get this right and your organization wins.
Misconceptions about Culture
Culture cannot be developed by simply creating environments where people congregate together. You've been at those events, right? Sometimes it's a movie night or a day out on a boat or a team building exercise. These are usually great fun and they give us a chance to get to know each other away from the office.
But, truthfully, this is just one step in creating a defined company culture. In my journey of leadership, this is a concept I fell prey to early on. In an effort to improve employee engagement, I created happy hours, pizza Fridays, and a party planning committee. What I didn't realize was that without the initial investment in people before creating these events that fostered community, the experience would be a shallow attempt at culture. Alignment Leadership requires an intimate pursuit of employees, and this pursuit will never happen at a happy hour or a five-minute interaction while sharing a slice of pepperoni.
As I began to develop this theory of Alignment Leadership, I realized the real win was much deeper—employee fulfillment. A happy hour can actually be an icebreaker to introduce someone into a community and build a deeper relationship. We go into these opportunities with the intention to further discover our employees, which leads to alignment. You want to develop a culture where you're able to authentically allow your employees to be known, heard, and valued.
Where to Start
Creating a culture starts with conversations between you and your people to clearly define the culture you have—and the one you want to build together. You need to have conversations that clarify the culture of your team, the culture of your department, and the culture of the company. This needs to be perfectly understood both from the leader's perspective and the employees' perspective.
Creating a culture won't happen overnight. People's worldviews are deeply rooted in who they are, and combining them into a culture that works for everyone will require people to make changes. It may take several years, but if you put in the effort to lead your team and work together, you can develop an authentic, meaningful company culture.
* * *

Chris Meroff
has spent more than 25 years supporting leaders in education at both the campus and district levels and is the author of
Align: Four Simple Steps for Leaders to Create Employee Fulfillment Through Alignment Leadership
. Through his work in 17 states and across thousands of school districts, he's seen firsthand the frustration administrators feel when their efforts don't produce the alignment they desire. He's made a career of testing new leadership ideas to see what works—and what doesn't—in service-oriented leadership. His business, Alignment Leadership Consulting, exists to teach leaders how they can boldly pursue a workplace culture that prioritizes employee fulfillment. You can learn more at
AlignLeadThrive.com
* * *


Like us on
Instagram
and
Facebook
for additional leadership and personal development ideas.

Posted by Michael McKinney at 09:44 PM
Permalink | Comments (0) | This post is about Culture , Human Resources , Leading Forum