Employee Engagement 101: Ask the Holy Question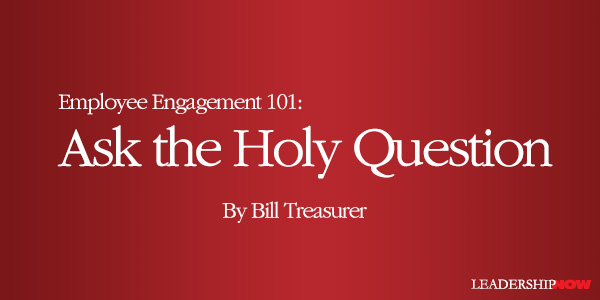 HAVE YOU EVER heard a front-line worker say, "I can't wait to make more money for our shareholders today!" No? In all my years as a consultant, I haven't either.
It doesn't matter what your company peddles. Increasing shareholder value, company market share, or worker productivity just doesn't jazz the average worker.
There is often a vast disconnect between what is important to a company's executive body and what is important to front-line workers. What matters to the average worker includes career opportunity, meaningful work, a balanced life, a fair wage, and being treated with respect—not increasing output.
As a leader or manager, you have to attend to the goals of your board or bosses and to the career aspirations of your workers. Too many people in charge focus solely on the former, leaving workers' aspirations in the dust.
A Solution in Four Words
Cueing into your workers takes far less time and energy than you'd think. In fact, it only takes four words. They are among the most important words in the English language, and, together, they constitute what I call the Holy Question: "What do you want?"
Answering those words, in my opinion, should be required of every job candidate, every worker, and every executive on up the line. The answer to those words should be reviewed during every performance appraisal, succession-planning session, and employee-ranking process. Why?
Because when you know what people want, you are in a far better position to match their ambitions and goals to the company's goals. When company and worker goals are aligned, people pursue organizational goals with the same dedication and passion as they do when driven by self-interest.
Aligning Goals Increases Workers' Courage
It's easier to get people to perform courageous (and uncomfortable) tasks when those tasks tie into their personal aspirations. By knowing what people want to get out of work, you can give them stretch assignments that connect project tasks to their own goals.
So, if your boss's goal is to "repurpose our existing product assets to create new revenue streams and optimize our market dominance on a go-forward basis," you can tie your boss's goal to your employee's own career aspirations by saying, "Hey, John, you said that you want more opportunities to use your creativity. Create ten new business uses for this product by next week."
Or perhaps you know that your employee Michelle would like to move from a data analyst to an advisory role. Your board has come to you needing an informed opinion on the latest sales metrics—and fast. It's the perfect opportunity to bring Michelle into the fold, allowing her to provide a fresh perspective while simultaneously gaining experience for her dream role.
The point is this: Before getting workers to carry out tasks in pursuit of the company's objectives, you have to understand what is important to them individually. How would you answer the question of "What do you want?" How would your boss answer it? Your customer? Each of your direct reports?
Getting each person to answer the Holy Question, with specificity, will help you to know when and how they'll be willing to be courageous.
* * *

Bill Treasurer
is a workplace expert, courage pioneer, and author of
Courage Goes to Work: How to Build Backbones, Boost Performance, and Get Results
. Founder of Giant Leap Consulting, a consulting and training company specializing in courage-building, he advises organizations—including NASA, eBay, Lenovo, Saks Fifth Avenue, Spanx, the U.S. Department of Veterans Affairs, and the Pittsburgh Pirates—on teaching workers the kind of courage that strengthens businesses and careers. Learn more at
Giant Leap Consulting
.
* * *


Like us on
Instagram
and
Facebook
for additional leadership and personal development ideas.

Posted by Michael McKinney at 02:09 PM
Permalink | Comments (0) | This post is about Human Resources , Leading Forum