Next Time You're in a Slump, Try Stillpower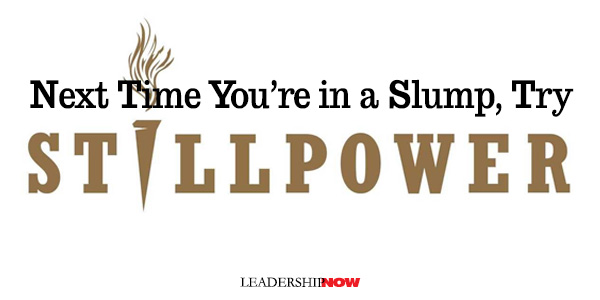 W
HEN our performance is in a slump or we get stuck, we tend to become anxious and reach for any quick fix or technique that promises to get us out of it. We apply more effort, focus, and willpower. And when all of that doesn't work, we get even more anxious and our performance heads even further south.
Instead, when we get stuck we need to rely on Stillpower, not willpower says Garret Kramer. Stillpower is the ability to return to a clear mindset after we get into a muddled mental state—a low state of mind. It's knowing that "all sentiments are temporary since they originate from your own thoughts and moods. Stillpower comes from knowing that self-worth has nothing to do with winning, losing, parental approval, money, fame, or anything external to you."
When we get into a low state of mind we need to do nothing. It's when we operate from a low state of mind that we usually make mistakes, poor judgments, miss opportunities and dig ourselves deeper into whatever hole we are digging. "Once you understand," says Kramer, "that as human beings we form our perceptions from the inside out, that the quality of our thinking and level of awareness move up and down independent of our circumstances, you will see that it makes little sense to work yourself through a temporarily low state of mind." But that's often exactly what we do.
When we run into trouble that's a sign to step back—not a call to action. Negativity is a sign to slow down. We can't perform at an elevated level when we are in a low state of mind.
A seemingly unresolved issue of today has nothing to do with erroneous thinking of today. And until an individual comes to this realization, he or she will always fall prey to the conditions of life itself.

Here's what many of us ought to consider: All human beings exist, from moment to moment, at varying levels of psychological functioning. When this level of functioning is low, most often for no tangible reason, we view life through a dirty lens and are prone to deviant behavior—if we act. Once this principle is grasped, we see that navigating smoothly through life doesn't have to be so complicated, and unlike the belief of many counselors and coaches in the self-help world, it has nothing to do with personal history.
Awareness is key. When you are aware of your thoughts and feelings in the moment and when necessary, allow your thinking to clear, then you will have the clarity to act; "insights will flow and answers will become obvious." He adds, "Insight is infinitely more powerful than willpower. Actually, insight, or having a new idea and/or a change of heart, erases the need for strength or force of will of any kind."
COACHING
Kramer notes that when you are coaching or counseling, you need to be operating from a higher level of thinking than the person you are talking to. "What comes out of your mouth is much less significant than the level of mental functioning from which the words are spoken." We need to interact with people from a state of mind "brimming with love, compassion, and selflessness….External how-to resources are not all that necessary; love will provide all the direction you seek."
Leadership is an all-in proposition. Done right, it's a lot of hard work. To cut ourselves some slack, we too often rely on external gimmicks and techniques rather than the messy work of a real relationship.
IDEAS TO CONSIDER
• "We perform better when we get caught up in the experience, rather than when we make the experience about us….When we focus on a personal prize, our options narrow; when we relish the process, our options expand."
• "When we act from clarity, it is impossible to get weighed down by judgmental outcomes."
• "When we succumb to our errant thoughts or closed-off moods, judge another person, and then act from this egotistical perspective of insecurity, it is practically impossible to find long-term success."
• "Every failure, every mistake, every loss—occurs to clarify our path, not to obscure it."
• "You will never wrestle with a choice when your level of consciousness is high."
Leaders will find a lot to consider here. Stillpower is one of those books that makes you reconsider your approach on many things. While Kramer might seem to be throwing the baby out with the bathwater at times, he doesn't overturn conventional wisdom as much as he calls us on it when we misapply it. It is the perfect prescription for those that have a need to control their world and the people around them.
It is important to note too, that looking within for answers is fine if you have consciously put something there to draw-on in the first place. Good flashes of insight are only produced when there is something good to draw upon. Choose your sources wisely.
* * *


Like us on
Instagram
and
Facebook
for additional leadership and personal development ideas.
* * *

Posted by Michael McKinney at 03:57 PM
Permalink | Comments (0) | This post is about Human Resources , Personal Development , Thinking