5 Leadership Lessons: The Velocity Manifesto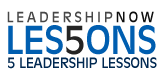 In today's high-velocity environment, Scott Klososky believes you need to understand how to guide your organization in the implementation and usage of technology—in short, how your organization "does" technology.
[As a leader], you—not the IT department, nor the VP of IT, nor the chief information officer (CIO)—must understand, drive and be accountable for how technology is structured in order to reach the strategic goals of the operation….Technology enables velocity—the speed of getting products to market, the speed of delivery, the speed of analytics, and the list goes on. Speed is our friend in almost every case. An organization's digital plumbing is what facilitates this speed, and it has become the single most important variable for success in many organizations.
The Velocity Manifesto
details key actions you must take to gain an advantage in the digital age. He covers three areas: Digital Plumbing (technology infrastructure), High-Beam Strategy (trendspotting), and creating a High-Velocity Culture (integrating different types of skills and lifestyles). Here are five insights from Klososky's Manifesto:

We have an
amazing
ability as a species to solve problems and make improvements. One way to enhance your vision precision is to understand that we
will
solve the issues in all industries. We will find efficiencies and knock out things that don't work the way we would like them to. So all you have to do is look at the industry you are in and identify all the things that are wrong with it….Next, you must begin to study how the solution to that problem will impact you, and find out whether you have any ability to solve it on your own.

The thing you want to be these days is a "fast follower."
The concept here is that you have a better chance of making a good investment in a trend or idea if you are not the very first—but also not the fifth, sixth, or seventh—into the market. Instead, you want to quickly follow the first movers who are trying to capitalize on a blossoming trend.

In order to play a high-speed game, you need team members who can work at a fast pace—and you also need a team that can work without friction. …
Your job as a leader is to create a culture that generates as little friction as possible
by leveraging your employee's strengths and minimizing their differences.

We have four very different generations in the workforce right now, and another on the way. We have leaders from one generation who can't relate to the technology sophisticated younger generations, and young people who have a somewhat warped view of what the organization owes them….
Younger generations will not operate like the current generation of leaders
….If you want to hire and retain A players, you will have to provide a vibrant culture for Generation Y and the rest of the generations to come.

Our inventory of technologies is more like a palette of art supplies—it
must
be formed into technological systems by true artists….By viewing technology construction as an artistic endeavor rather than a mechanical one, we are freed to not only build applications that have a stronger ROI, but also to do a better job of managing IT people.
Software engineers, developers, and programmers must be viewed as the artists of this generation.
* * *

Posted by Michael McKinney at 04:54 PM
Permalink | Comments (0) | This post is about Communication , Five Lessons , General Business , Human Resources , Vision