Transforming an Ordinary Moment into a TouchPoint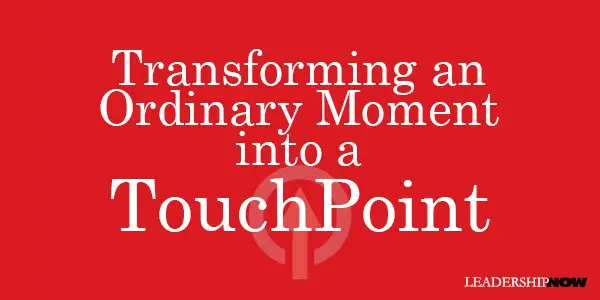 WE ALL have those moments when we are too busy for the people around us. But those moments are the work of leaders. Those are the moments when we can help to move things from what they are to what they could be. Campbell CEO Doug Conant said, "To me, they're not interruptions. They're opportunities to touch someone and improve the situation."

TouchPoints
, by Doug Conant and Mette Norgaard, describes a new way of thinking about the work of leadership.
TouchPoints are those moments in the day when you have the opportunity to touch the lives of other people.
Each has the potential to become a high point or a low point in someone's day. "Each is an opportunity to establish high performance expectations, to infuse the agenda with greater clarity and more energy, and to influence the course of events."
Every TouchPoint is spring-loaded with possibilities. Each one can build—or break—a relationship. Even a brief interaction can change the way people think about themselves, their leaders, and their future.
TouchPoints exposes the extreme responsibility that leadership is. A responsibility that in our overloaded age, we often overlook.
To make the most of your TouchPoints, they have created the TouchPoint Triad: listen, frame, advance. In any moment you begin by asking, "How can I help?" Then you listen intently. This prepares you and helps you find out what is really going on. Be curious and keep listening for the real issue. Next, you frame the issue to be sure that everyone in the TouchPoint is on the same page. Third, you advance the agenda. People come to you because they want results. Once you know what is needed, do what you can in that moment to advance the agenda; decide on what the next step is, and who is responsible to do it. After the TouchPoint is over, make a point to check-in and see how well the action plan is going by asking something like, "How did it go?" or "Is there anything else you need from me?" It's a reminder that you care and lets you know if you were genuinely helpful.

A TouchPoint is about really connecting with others and improving results. It's about engaging in a way that is alert, abundant, authentic, and adaptable:
You need to be alert to the real issues. "When you are fully present, you can see the gaps in someone's line of logic and pick up bits of information that provide clues to what is going on."
You need to be abundant in your thinking; rejecting the either/or scarcity mindset.
To be authentic is to embrace the work of the leader and "live by a very clear code that provides an underlying clarity and consistency in every TouchPoint."
"The secret to being adaptable is to develop a broad range of skills, so that you can adjust and adapt in the moment."
Throughout TouchPoints, you will find many nuggets of relationship wisdom to help you, as they put it, "work with, not against, the nature of things."
The authors insist that you clarify your own leadership model so that you can apply it consistently. To that end, they suggest that you answer two vital questions: What makes people give the very best of themselves? What makes for ever-stronger performance in an ever-changing world? Your answers will help you to define how you see yourself, other people, and the world around you.
* * *


Like us on
Instagram
and
Facebook
for additional leadership and personal development ideas.
* * *

Posted by Michael McKinney at 11:06 PM
Permalink | Comments (0) | This post is about Communication , Human Resources , Management