7 Concrete Actions That Can Help You Be a Champion of Workplace Inclusion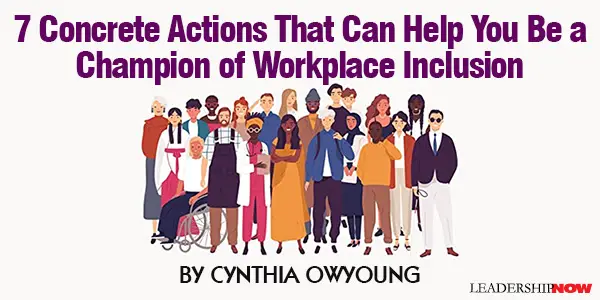 ENGAGING leaders within your organization may require leveraging several different kinds of elements, depending on what your company's culture most heavily emphasizes. Data and research in the business case may be enough to convince some leaders that they need to engage in diversity, equity, inclusion, and belonging (DEIB). For others, it may be how you build a relationship and emotional connection to DEIB through storytelling and trust. For still others, it can depend on how strongly you can integrate DEIB actions into leaders' business priorities and make this work as low lift as realistically possible. It's up to you to find out what's most important to your leaders and connect DEIB into that.
Most of the time, I find that leaders have already bought into the concepts of DEIB. What they lack is a clear understanding of how to make progress. Taking no action at all is considered safer than taking the wrong actions that might cause controversy or inadvertently offend someone. What this means is they need a clear road map of actions to take. This can take the form of a customized DEIB action plan that includes a data dashboard supporting your recommended areas of focus. Or it can be a more generic set of suggestions that any leader across the organization can take, such as stating publicly on social media that they are committed to DEIB and looking for ways to get closer to different communities.
What's most important is to define a set of actions that are concrete enough to move the firm toward its defined DEIB goals. Simple advice such as "hire more people of color" is not that helpful because the organization would be doing that if they already knew how to do it well. It's the fact that they don't know what to do that we need to pay attention to. So I try to give leaders easy, concrete actions that they can do to be a champion of DEIB, such as these:
• Audit your networks. If it is not diverse, start following and connecting with people from diverse backgrounds. For every new connection you make that is in the majority, invite another connection that is not.
• Educate yourself. Either read articles or books, listen to podcasts, or attend webinars on DEIB. Actively participate in trainings offered by your employer.
• Communicate your support. When you post a job, explicitly state that you encourage people from diverse backgrounds to apply. Talk to your teams about your commitment to and expectations of DEIB.
• Amplify minority voices. Give credit to ideas shared by underrepresented groups in meetings. Share social media posts from underrepresented talent.
• Make space. Invite people who haven't spoken during a meeting to share their thoughts. Make sure event speakers are representative of diverse backgrounds.
• Show up. Attend ERG events whether you have an affinity for that ERG or not. Listen and learn.
• Seek input. If you're leading an initiative that will impact an underrepresented group, make sure you involve their perspective in it as early as possible.
This is not an exhaustive list by any means, but it contains a few basic ideas that I have found to be helpful guideposts for leaders who are seeking to demonstrate their DEIB commitment. Of course, it's not enough for leaders to show their top-down commitment and role-model inclusive behaviors. It must also be coupled with employee support for DEIB initiatives to truly take hold.
* * *

Cynthia Owyoung
is the author of
All Are Welcome: How to Build a Real Workplace Culture of Inclusion that Delivers Results
. Owyoung is Robinhood's Vice President of Inclusion, Equity, and Belonging, partnering with business leaders, employee resource groups, and the people experience team to support Robinhood's mission to democratize finance for all. She's also the founder of Breaking Glass Forums, where she develops strategies to accelerate more diverse leaders and inclusive organizations. A recognized diversity leader, Owyoung was named to Entrepreneur Magazine's 100 Women of Impact in 2021. Owyoung serves on the Board of Directors for AbilityPath, a nonprofit dedicated to empowering people with special needs to achieve their full potential.
* * *


Follow us on
Instagram
and
Twitter
for additional leadership and personal development ideas.
* * *


Posted by Michael McKinney at 08:03 AM
Permalink | Comments (0) | This post is about Human Resources