Lift: How to Be a Positive Force in Any Situation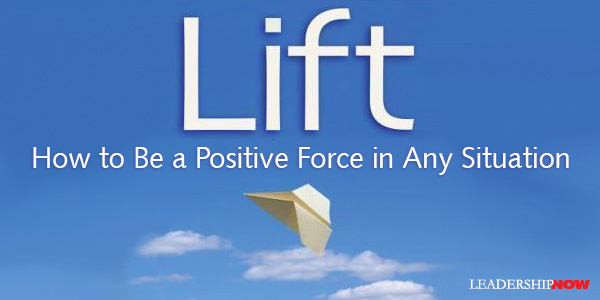 TO OVERCOME the force of gravity—that which pulls us down—we have to generate an opposing force greater than gravity. That force is lift. Any opposition to lift is called drag.
In the same way that we use the laws of physical science to lift a plane off the ground, we can use social science to lift "ourselves and others up to greater heights of achievement, integrity, learning, and love," thereby becoming a positive force in any situation. It's the pressures of daily living that drag us down. Instead of experiencing lift we fall back into our comfort zones, become reactive, self-centered and fatalistic.
To intentionally experience lift and to be a positive influence for others, we have to make a conscious choice.
In Lift: Becoming a Positive Force in Any Situation, authors Ryan and Robert Quinn present this fitting metaphor, to explain how we can intentionally experience lift, to rise above the constraints of everyday life and lift the people around us. "All of us have a choice: we can choose to be the kind of people who drag others down or to be the kind of people who lift…. We are relational beings. Who we are at any time depends on who the people around us are, and who they are depends on who we are." That last sentence can't be overemphasized. It carries with it a great deal of responsibility, especially for us as leaders.
The authors describe lift as "a psychological state in which a person is purpose-centered, internally directed, other-focused, and externally open." What exactly are these four characteristics of lift? In a very relatable and revealing example—the parenting of a young son, Mason—the authors show how this plays out in real life. I can't reproduce the example here, but I think from the inferences you will get the idea the authors are trying to convey. The following is paraphrased from their work:
Purpose-centered is the opposite of being comfort-centered. The desire to stay comfortable is a characteristic of a normal psychological state. My son Mason's behaviors were comfortable for me. In my desire for comfort, what had not occurred to me was the possibility that perhaps Mason was behaving differently because of the changes that had happened recently in his life. We need to ask, "Are the results I am trying to create about me and what I am comfortable with or are they about what is best for the other person?"
Internally directed is when people experience the dignity and integrity that comes with exercising the self-control necessary to live up to the values that they expect of others. External direction, on the other hand, is a characteristic of a normal psychological state.
If Mason was building with his Legos or playing a game when I asked him to do something, I expected him to put those things aside and do it. Yet, if I was involved in an activity and Mason interrupted me, I would expect him to wait until I was done with my activity before I did what he asked. I expected him to show respect to me, but I was not doing the same for him...When people are externally directed, they let circumstances (such as the need to get Mason to clean up or go to bed) drive their behavior instead of their values (such as respect for others' time and activities).
Other-focused is to be open to other people's feelings and needs. We then empathize with them and feel impulses to be compassionate. When we are self-focused, we are concerned only with our own needs, feelings, and wants. We see other people as objects that either helps us or impede us in our goals. In my case, Mason was an object that was preventing me from my goal of showing that I was a good father.
Externally open is openness to external cues. When we are open we learn, grow and adapt ourselves to the situation unfolding before us. When we are internally closed, we ignore and deny feedback. We ignore or deny feedback out of fear that the feedback says something about our worth as human beings. So as a result, we tend to get angry. Again with Mason, I was not showing him the respect that I wanted him to show me. As I opened myself to the possibility that I might be wrong, I also opened myself up to what Mason was feeling, and to what his needs might be and became other-focused.
Using scientific research to provide "insight into why lift is important, what the characteristics of lift are, and how our psychological states influence others," they formulated four questions that capture the nuances required to intentionally move ourselves from a normal state into lift.
What results do I want to create? (When people answer this question they become less comfort-centered and more purpose-centered.)
What would my story be if I were living the values I expect of others? (When people answer this question they become less externally directed and more internally directed.)
How do others feel about this situation? (When people answer this question they become less self-focused and more other-focused.)
What are three (or four or five) strategies I could use to accomplish my purpose for this situation? (When people answer this question they become less internally closed and more externally open.)
This post is getting long, but I would like to share several more thoughts for you to contemplate:
When a new situation disrupts our previous expectations, though, it is more productive to change our expectations than to try to make the world conform to our old expectations.

A purpose-centered state involves more than having a goal. When people are purpose-centered, they envision and pursue extraordinary results that are not constrained by previous expectations or by the expectations they receive from others.

Self-regulation is the process of using one's conscious mind to inhibit one's automatic response to the situation and to replace it with a controlled response.

Since he was not focused on himself, he was not worried about people taking advantage of him.
The book is full of great examples and scientific evidence to back their perspective. The scientific evidence is really just icing on the cake. The relational principles at work here are sound, but they require much thought and self-examination. This is a book that needs to be read and re-read. Inertia is our biggest enemy. Inertia will keep us from benefiting from this book and becoming a positive force; the kind of leaders that provide lift in our own lives and those we influence.
* * *


Like us on
Instagram
and
Facebook
for additional leadership and personal development ideas.
* * *

Posted by Michael McKinney at 11:10 PM
Permalink | Comments (0) | This post is about Communication , Leadership Development , Personal Development , Positive Leadership