The Power of Pause
: How to be More Effective in a Demanding, 24/7 World
Nance Guilmartin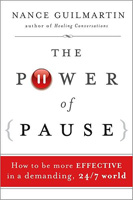 Format:
Hardcover, 000 pp.
ISBN:
9780470478271
Publisher:
Jossey-Bass
Pub. Date:
December 21, 2009
Average Customer Review:

For Bulk Orders Call: 626-441-2024

Description and Reviews
From
The Publisher:
A clear, actionable plan to fight frustration at work, make savvier decisions, and avoid costly mistakes.
Conflicts with colleagues, competing deadlines, demands for instant responses . . . More of us are asking, How can we be effective when we feel we don't have time and are facing nonstop demands?
In
The Power of Pause
, Nance Guilmartin outlines the proven process that she has taught successfully to thousands of people worldwide. This practical method helps even the most overwhelmed among us take a moment to pause and wonder what's called for when we feel short on time, attention, temper, or choices. In that instant, we can use a simple method to rewire our overloaded circuits, tap into our "missing-in-action" common sense, regain control of our reactions, and raise our communication intelligence. This process is not about slowing down the pace of workday life. It is about enabling anyone to be your best when dealing with deadlines, change, or fast-moving opportunities.
Filled with engaging real-life stories and case studies,
The Power of Pause
helps individuals, managers, and teams:
Achieve goals with less stress
Lead with confidence in the face of uncertainty and change
Make better decisions and work smarter together, not harder
Quickly turn demanding customers into loyal fans
Use a simple process to prevent misunderstandings and resolve disputes
Using the Power of Pause process enables readers to become more resilient in the face of change, save time and money, and help others be their best—even when dealing with competition, cultural and language differences, or tight budgets.

Reviews
"The Power of Pause is a great tool for us in these changing times. It helps us avoid the problems that 'continuous partial attention' and multitasking create and shows us how to think things through and achieve what's important."
—Spencer Johnson, M.D., author, Who Moved My Cheese?
"This is a powerful book that will change the way you do business and live your life. Pausing in a fast-paced world will help anyone be more productive."
—Jeffrey J. Fox, author, How to Become a Rainmaker and Rain: What a Paperboy Learned About Business
"In our 24/7 world we are overwhelmed with choices, rushing to decide and to act. Nance Guilmartin's interesting and lively book teaches us to pause, reflect calmly, assess the real options, and then launch our solutions. She's right. It works."
—John Mendelsohn, M.D., president, The University of Texas M. D. Anderson Cancer Center
"These simple yet powerful practices enable leaders to more effectively manage teams, make decisions, and solve the right problems. They are as important for schools to teach to MBA students as finance and accounting."
—Joyce Elam, executive dean, Florida International University College of Business Administration
"Whether you are leading people in battle, in organizational transformation, or in the fight against climate change, this extraordinary book has much to teach about how to solve the new century's challenges."
—John Elkington, coauthor, The Power of Unreasonable People
"The Power of Pause teaches us how to manage our energy—which is essentialin today's 24/7 environment."
—Cheryl McDowell, vice president, Finance Americas, Oracle Corporation

About the Author
Four-time Emmy Award winner
Nance Guilmartin
is an executive coach, consultant, educator, and author of Healing Conversations. As a Westinghouse Broadcasting executive, she launched the national designated driver program and the For Kids' Sake and Time to Care campaigns, sparking community problem solving in over 100 cities. She was press secretary to the late U.S. Senator Paul Tsongas and a writer-editor for CBS NewsRadio. Guilmartin is a Fellow of Florida International University's Center for Leadership, where she teaches the executive education program Women on the Move, and is a clinical adjunct faculty member at the College of Business Administration. She lives in Massachusetts.

Find Items On Similar Subjects

Consider
: Harnessing the Power of Reflective Thinking In Your Organization