5 Leadership Lessons: Getting Your Relationships Right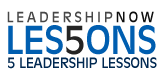 When we think of leadership we naturally regard the objective and view with suspicion the subjective. We value hard data over soft data; reason over instinct; the external world over the internal world. John Townsend writes that "Great leaders succeed by harnessing the power of both the external world and the internal world. You, as a leader, are probably more trained, prepared, and experienced in the external world than you are in the inner one."
Townsend wrote
Leadership Beyond Reason
to help you understand and utilize the soft skills – that which is beyond reason. He says "you ignore what is beyond reason at your own peril….Leading from your inner world ultimately produces better results in your leadership."
He divides our inner world into five areas: values, thoughts, emotions, relationships and transformation. As leadership is about connecting with those you lead and a primary focus of leadership, let's pull five lessons from Townsend on relationships:


"You internalize anyone who is significant to you, past and present. As well, the people you are leading are currently internalizing you. As a leader, you have the responsibility of knowing that people are storing mental and emotional pictures of how you relate to and lead them." These are our relational images. It reminds me of a quote from Shakespeare, "There is a history in all men's lives." This includes you too. We relate to others in ways that others have related to us. This of course has an impact on the connections we can make with others.

Develop good and healthy relational images. "Take in the good and forgive and grow from the bad." He explains, "Some of your own significant relationships may have been with people who were cold, controlling, manipulative, self-centered, critical, or even abusive. This can create distorted or nonfunctioning pictures of how relationships should work." Is your leadership drawing on images that don't work for you?

"An important relational ability for leaders is to see people as separate from you and from their roles with you. Your people want to work with you, or they wouldn't be with you. But you aren't their reason for existing. They have lives, dreams, and concerns of their own. You need to be able to identify and understand that. Sometimes leaders assume everyone has the vision as strongly as they do or are as committed as they are. That can be a mistake and can undo what you are trying to accomplish with them."

"Relationship provides the bridge over which truth can be conveyed. In your leadership, your people will experience truth in the absence of relationship as harshness, judgment, or condemnation. They will resist it and refuse it, either actively or subtly. Truth is hard to swallow if you don't feel connected with the truth teller. That is why being "for" the other person, letting them know that, and being as emotionally accessible as possible,
at the time of the reality
, is critical." Often "counseling" or performance appraisals derail on this issue as no sense of being "for" the other person has been established. Trying to develop a relationship "at the time of the reality" is too late. Do it now.

"The better you can relate, the better you will be able to influence and motivate…. Passion is ignited when the real self connects with the right task environment…. You can't create passion, not for yourself or for anyone else. Your job is to create the right environment for the chemistry to happen. You do this by personal research. You must spend the energy to know your people and learn which tasks intersect with their passions. It will be different for different individuals; it's not a one-style-fits-all program. But when you develop this relational ability, and get to know the insides of your people, the value and benefits are enormous.
Developing your relational abilities will help you
read the landscape
. Townsend adds, "The leader who misses relational aspects is surprised when people become distant, resentful, or just leave. The relational leader sees the signs coming a long way away and has time to do something about them."
Posted by Michael McKinney at 09:51 AM
Permalink | Comments (0) | This post is about Five Lessons , Human Resources , Management , Motivation , Positive Leadership , Teamwork