One More Time: Resilience is Key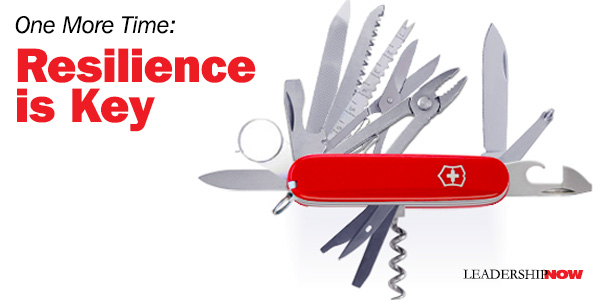 IN The Knack, a book for entrepreneurs, Norm Broadsky and Bo Burlingham respond to the question, "What does it take to be a successful entrepreneur?" The most important quality is resilience. "I'm talking about the ability to bounce back from failure, to turn around a bad situation, to profit from your mistakes. They continue:
That's because everybody makes mistakes, plenty of them. What's more, we keep making them as long as we're in business. Sure, we like to think we'll eventually get so smart we won't make mistakes anymore. Forget about it. You'll never stop making mistakes. Hopefully, the new ones won't be the same as the old ones, but they'll be equally painful. They'll bug you just as much. They'll make you just as mad. As upset as you get, however, it's important to bear in mind that failure is still the best teacher around. You'll do fine as long as you're open to the lessons it's trying to teach you.
And a concluding thought from an article in the New York Times, Innovation Should Mean More Jobs, Not Less. Geoffrey A. Moore, author of Dealing with Darwin, comments:
"America is probably the best culture in the world at failing," he said. "We're willing to navigate in a fog and keep moving forward. Our competitive advantage tends to be at the fuzzy front end of things when you're still finding your way. Once the way has been found, we're back at a disadvantage."
* * *


Like us on
Instagram
and
Facebook
for additional leadership and personal development ideas.
* * *


Posted by Michael McKinney at 12:29 AM
Permalink | Comments (0) | This post is about Entrepreneurship , Personal Development