Ownership Thinking
: How to End Entitlement and Create a Culture of Accountability, Purpose, and Profit
Brad Hams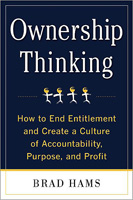 Format:
Hardcover, 256pp.
ISBN:
9780071772457
Publisher:
McGraw-Hill
Pub. Date:
September 16, 2011
Average Customer Review:

For Bulk Orders Call: 626-441-2024

Description and Reviews
From
The Publisher:
Boost productivity by replacing employees' sense of entitlement with a sense of ownership. "Ownership Thinking" provides a three-step program for transforming employees from average people just doing their job to top-performing employees who operate with the understanding that they have a very real stake in the company's success.
Learn how to educate your employees on the fundamentals of business and finance (how the company makes money and how they add - or take away - value); identify the organization's key performance indicators; and, create incentive plans aligning employees' behavior with business objectives.

About the Author
Brad Ham
s is on a mission to eradicate entitlement. His company, Ownership Thinking, has helped hundreds of companies to diminish or defeat the entitlement mentality that is so pervasive and so devastating in our culture, and to replace it with cultures of earning -- of employees who think and act like owners. He believes that human beings do not gain self esteem through unearned compensation, empty praise or false security, but rather through achievement. His company provides employees and organizations with the tools and training they need to realize their potential, and to create wealth where wealth might never have been created. Brad, with the help of his extraordinary team, developed the Ownership Thinking model in the early '90s, during which time he was the president of Mrs. Fields Cookies in Mexico. Prior to this, he held executive positions in the area of finance and operations in a fortune 100 company. Brad is a lifelong student of business and finance, holds a master's degree in Organization Development and Human Resources, and has taught business at the graduate level. He is a board member of the National Center for Employee Ownership, the number one resource for information and research related to broad based equity programs. In addition to having implemented Ownership Thinking in over 800 companies, Brad spreads his mission and message by speaking to roughly 70 audiences a year, and is one of the most sought after speakers for Vistage, the world's largest membership organization of CEOs.

Table of Contents
| | | |
| --- | --- | --- |
| | | |
| | Introduction: Inception of Ownership Thinking | |
| | | |
| 1 | Why Ownership Thinking is Desperately Needed | |
| 2 | How to Create Incentive Plans . . . That Work! | |
| 3 | Your Employees Think You Make Wheelbarrows of Money | |
| 4 | Measuring Through the Windshield, Not the Rearview Mirror | |
| 5 | Sharing the Insomnia Through Employee Engagement | |
| 6 | Do Ownership Thinkers Have to Own | |
| 7 | Ownership Thinking: Not the Flavor-Of-The-Month | |