Got Drama?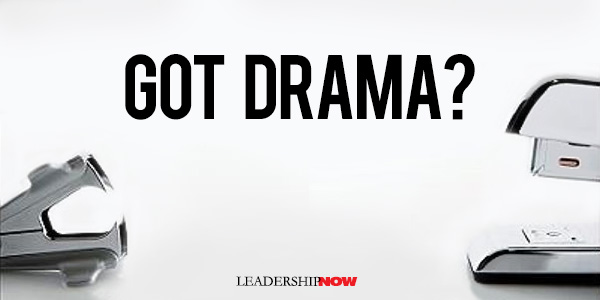 YOU can't stop The Drama. There will always be drama.

But that's not the problem says Marlene Chism, author of
Stop Workplace Drama
. "The amount of time you stay in the drama—and the effort you put toward it—
is
the problem. Complaints, excuses, and regrets only serve to keep the drama alive."
Your
drama—what you add to The Drama—is the problem.
Chism defines drama as "any obstacle to your peace and prosperity." Drama is the result of not recognizing or taking care of the little signs of bigger problems when they first presented themselves. At the core of drama, you will find one of three common elements (if not all three): a lack of clarity, a relationship issue, and/or resistance. So, says Chism, when you experience drama you need to ask yourself three questions:
1. Where am I unclear?
2. What is my relationship issue?
3. What am I resisting?
Chism presents eight principles for dealing with drama, but "lack of clarity" struck me as the most common and excuse-laden trap there is. Too often this is where we get stuck.

When we first set a goal we're clear. In her terms, "we see the island." But between here and there the process becomes difficult and someone on your team becomes unhappy, and, "instead of focusing on the island we are trying to reach, we're now concentrating on pleasing the one person who is upset. Our focus has shifted because we became confused about our number one priority." And the fog rolls in.
"Any type of discord, abuse, confusion, or game-playing always boils down to a lack of clarity." A loss of focus.
Sometimes we create drama because we want something on our terms. We imagine that we can't do something because we can't do it the way we think it should be done—our way. Chism relates a clarifying example of this with the recently divorced Joe who is having visitation issues with his ex-wife Patty. She's not letting him do what he wants in the way that he wants.
Many people get stuck in the drama of what should or shouldn't be. Yes, you can fight that battle, if winning a battle is what you want. But again, in order to clear the fog and help Joe get clarity, I asked, "If there are two islands you can go to, and one means winning a battle with your wife and the other island is getting to see your kids and be a father to them—then which island would you choose?"

He said, "Seeing my kids, but…"

I said, "No buts. Are you willing to drive to Illinois several times a year and spend quality time with your kids, even if Patty does nothing more than cooperate?"

Joe said, "Yes."

It's never as difficult as we make it when we get clear on what we can control and what we are committed to.. The point here is that clarity may or not change Joe's ex-wife. Joe will struggle if that is his motive or intention. However, Joe's clarity will give him the essence of what he really wants. If he is able to let go of distractions and not get stuck on the rocks that lie between him and his final goal.

Do you see that while this kind of clarity may not change all the drama, it will give you peace and free up your energy for more productive endeavors?
This kind of dynamic plays out every day in our business and personal lives. When we are not clear about what we want, what our values are, what we are committed to, it is easy to lose our focus, to drift off course
Solution: Clear the fog.
Chism has written a good-natured and practical book that will change your thinking and in the process help you to control the drama in both your personal and professional life. As leaders, we have the responsibility to be very clear with ourselves and our team so that we don't get pulled into negativity, gossip, power plays, resistance and … drama. Chism suggests asking the following questions:
What are my top 10 principle-based values?
What areas of my life or business are in the fog?
What are some of the distractions that take me off course?
Where do I get stuck?
Where can I improve as a leader?
What drama do I see on a daily basis in the workplace?
What drama do I see in my personal life?
Where am I avoiding or procrastinating?
* * *


Like us on
Instagram
and
Facebook
for additional leadership and personal development ideas.
* * *

Posted by Michael McKinney at 10:00 PM
Permalink | Comments (0) | TrackBacks (1) | This post is about Change , Communication , General Business , Human Resources , Management , Personal Development , Teamwork , Vision