Talent Magnet: How to Get and Keep Top Talent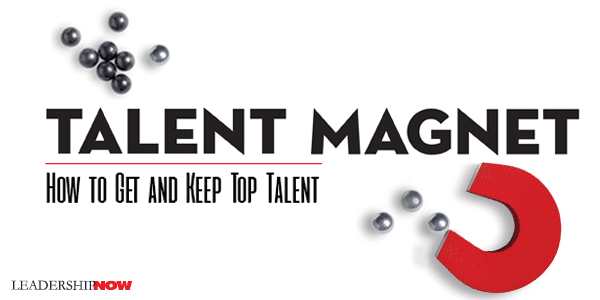 I
S YOUR ORGANIZATION a
Talent Magnet
? An organization so attractive that top talent will be standing in line to work there?
Too many organizations find themselves in the positon of not being able to find enough qualified people to meet their growth goals.
To answer the question, what attracts top talent, author and Vice President of High Performance Leadership at Chick-fil-A, Inc. Mark Miller commissioned a research study to interview over 7000 people from age fourteen to sixty-five and included both professional and hourly workers across all educational backgrounds. The result is Talent Magnet.
Talent Magnet looks at the talent predicament from both sides—both those seeking work and those recruiting workers. It is the story of CEO Blake Brown who finds that they have a talent crisis and begins a journey to discover what it takes to find and keep top talent. It is also the story of his son Clint and his friends who are looking for a great place to work.
What they discover is that what top talent wants and what organizations need to provide is a Better Boss, a Brighter Future, and a Bigger Vision. These concepts are all broken down in the story, but the diagram below provides an overview.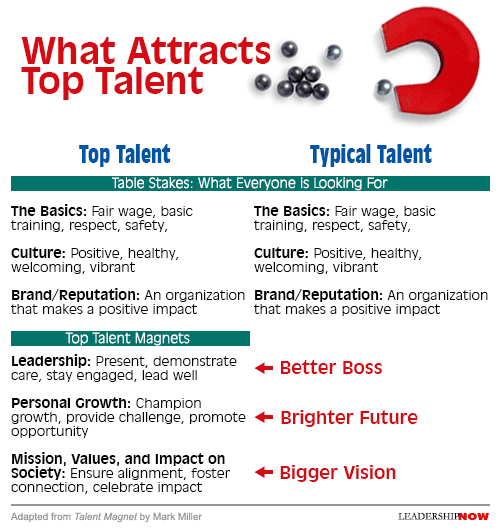 You don't advertise that you're trying to attract top talent, you simply create the culture that top talent is looking for. "If you build it they will come." You make people aware by practicing the qualities that make a top talent culture—Better Boss, a Brighter Future, and a Bigger Vision. An organization's leadership must understand their individual roles in delivering on the promise.
On their journey to discovery, they realized that "Many looking for work will be indifferent to our message, but Top Talent will resonate deeply with our story." The promise should run through all of your corporate communications: engaged, caring leadership, champions of growth and opportunity, and a connection to a larger story that impacts society.
The Top Talent Magnets are universal; they are not gender or age specific. People may leave and move on and take their skills with them. Each job is a learning opportunity. And you want people with that kind of mindset because that will serve you best. When your goal is to help your people learn the skills that will serve them the rest of their life, then you are more likely to attract and retain top talent that will drive your organizational goals.
Blake concludes, "Working with people is the most challenging and rewarding part of being a leader. We can never shirk the responsibility. It comes with the job. If we abdicate our people responsibilities, we forfeit our leadership. People must always be our top priority. More than vision, strategy, creativity, marketing, finance, or even technology, it is ultimately people who determine our success."
* * *


Like us on
Instagram
and
Facebook
for additional leadership and personal development ideas.
* * *


Posted by Michael McKinney at 09:42 PM
Permalink | Comments (0) | This post is about Human Resources