Mastering Civility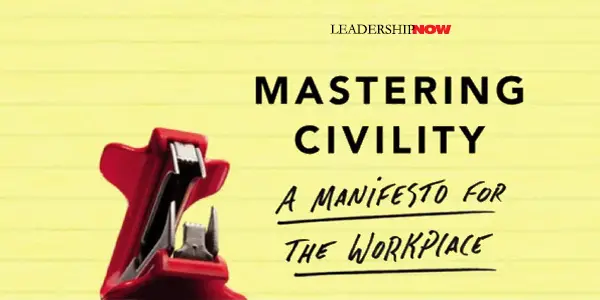 Civility costs nothing, and buys everything.


— M. W. Montagu
CIVILITY has a way of winning people over and garnering influence.
Civility isn't just the absence of incivility. In Mastering Civility, Christine Porath explains that "Civility in the fullest sense requires something more: positive gestures of respect, dignity, courtesy, or kindness that lift people up."
Incivility impacts our health and performance. It depletes our "immune system, causing cardiovascular disease, cancer, diabetes, and ulcers." It also robs us of our "cognitive resources, hijacks our performance and creativity, and sidelines us from our work. Even if we want to perform at our best, we can't, because we're bothered and preoccupied by the rudeness."
Incivility is contagious. "When you're exposed to hostility or aggression, you behave differently. Incivility sneaks into your subconscious. It's easy to see how plagues of incivility can take shape and spread." But you don't have to succumb to incivility. "When you follow a rude experience with a polite one, the polite one 'overwrites' the rude one, loosening the hold it has on your mind."
Civility starts with a few basic behaviors and it grows from there. Simple things like saying please and thank you make a difference in how we are perceived by others and the influence we have on them. "Most of us are in a hurry to prove our competence, but warmth contributes significantly more to others' evaluations. Warmth is the pathway to influence."
Other basic behaviors include acknowledging people and listening. They signal caring, commitment and connection. Show respect for others by sharing resources, the limelight, and positive feedback. "The highest performers offer more positive feedback with their peers; in fact, high-performing teams share six times more positive feedback than average teams. Meanwhile, low-performing teams share twice as much negative feedback than average teams."
What if you are the victim of incivility?
When someone is being uncivil to you it's easy to let your emotions take over. It's easy to get sucked in to their incivility. Porath advises you to avoid the temptation to get even. It's not a win for you.
The best advice has nothing to do with them and everything to do with you. How will you choose to interpret it? Here are a few of her thoughts:
When you experience incivility, your sense of thriving comes into play in a particular way: by making it easier for you to reframe the negativity of the event so that it isn't nearly as destructive.

What are you going to make this mean? How you interpret the situation is crucial. How much are you going to let someone pull you down? What useful lessons might there be for you in the situation?

Science reveals that about 50m percent of our happiness is based on brain wiring; 40 percent is owed to how we interpret and respond to what happens to us, and 10 percent is driven by our circumstances.

In large part, you really do get to decide how you interpret incivility, the meaning you assign to it, and the stories you tell yourself. You also get to control whether it makes you feel bad or not. It may not be realistic for you to "toughen up," but you can choose not to worry about what was said or done to you."
Everyone would agree that we should be civil and we recoil when we see others engaged in it, yet incivility has become more commonplace. Somehow we feel justified being uncivil when things don't go our way. And it costs us all.
Uncivil behavior does not generate greater influence no matter how loud you are. Most leadership failures can be attributed to abrasive or arrogant approaches to others. Uncivil leaders eventually undermine their own potential.
Are you civil? Porath offers a quick civility assessment online.
* * *


Like us on
Instagram
and
Facebook
for additional leadership and personal development ideas.
* * *


Posted by Michael McKinney at 08:44 AM
Permalink | Comments (0) | This post is about Human Resources , Personal Development