You Can Be Yourself Here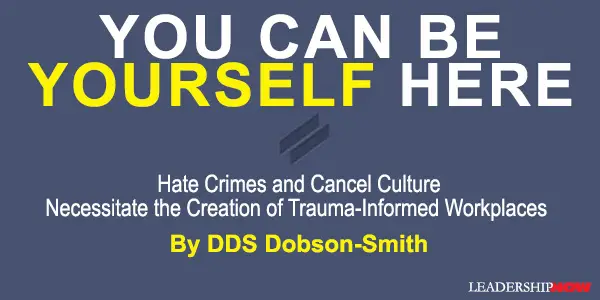 SHORTLY after the first wave of the COVID pandemic hit, I received an alarming text from a colleague of mine. It warned me of a new trend in the Bay Area called the "Slap an Asian Challenge," in which people filmed themselves slapping Asian people and then posted it to their social channels. My husband, David, is Asian American, and my colleague was alerting us of potential danger.
That same day, while they were walking to work, David was approached and harassed in broad daylight by a man wearing a mask.
While not new, hate crimes (and their not-so-distant cousin, cancel culture) have been on the rise through the pandemic. Also not new and also on the rise are murders and beatings of Black, Brown, Mixed Race, and First Nations people, along with increased attacks on the queer and trans communities. The tragedies associated with the names George Floyd, Ahmaud Arbery, and Breonna Taylor placed this societal abhorrence in an appropriate spotlight.
How does this violence affect the business world? Organizations now have an opportunity to be a part of the solution. They can commit to education and open dialogue to create what's called a "trauma-informed workplace." When implemented effectively, the result is an environment of happy, comfortable, and psychologically safe employees. If the key to any great company is its people (and it is), just imagine how beneficial this can be.
Sadly, hate crime is an ugliness that we must deal with. Another ugliness, however, is cancel culture, which is a term that's come to light in recent years. Cancel culture is engaging in mass canceling as a way of expressing disapproval and exerting social pressure. It tends to happen most when someone from the dominant social group (i.e., male, straight, white, cisgender, middle-aged, or non-disabled) is ostracized for saying or doing something hurtful to a member of a community that's historically excluded (i.e., female, Black, Brown, Mixed race, First Nations, queer, transgender, elderly, or disabled).
If we want to level-up human consciousness and create a more equitable, inclusive world (which I, of course, think we do), then we have to let people feel safe in making mistakes and saying the wrong thing — without the threat of becoming canceled. Only under these conditions can learning and open dialogue about privilege and difference take place. If we don't allow people with identity-privilege to feel safe enough to muck things up and get things wrong, they won't be willing to learn about diversity, inclusion or equity and we'll have no hope of creating a deeper sense of belonging in the workplace. With the threat imposed by cancel culture, why would they? They feel safer staying away from those discussions because when they get involved, they risk exposure and, ultimately, getting voted off the island.
People need to feel a psychological safety net when taking part in the discussions of a trauma-informed workplace. They need to act with intentional bravery to step into that space. Then, it's up to organizational leadership to make sure they're not canceled for saying or doing something unacceptable.
We don't need to just cancel hate crimes. We also need to cancel cancel culture.
Leaders of organizations must create trauma-informed workplaces to help those who have suffered a hate crime, been subject to cancel culture, or who have dealt with the challenge of being excluded in some way. Concepts like employee resource groups and safe rooms have recently been proven effective to help people process tragic events.
Companies that create "safe rooms" and "intentionally brave spaces" where the delicate (and oftentimes messy) conversations can take place give their staff the psychological safety net necessary for processing complex trauma and the harm inflicted by systemic oppression and day-to-day microaggressions.
But simply declaring a space as "intentionally brave" and explaining to folks in the room a requirement for them to consciously, willfully, and intentionally bring courage, vulnerability, patience, and empathy isn't enough. An additional step of co-creating rules for the room can encourage commitment.
Here is a simple method for setting the stage to process trauma and oppression at your workplace:
Briefly introduce the topic of psychological safety.
Invite each member of the group to write down qualities that they would like to be present in the room to enable the experience of psychological safety.
Ask each person to read one of their qualities while writing it on a flip chart.
Facilitate a conversation around questions concerning each quality.
Ask the group by show of hands if they're able and willing to bring each of the qualities into the room.
Lastly, invite each person to place their signature on the flip chart to "seal the deal" in terms of commitment.
I've seen safe rooms and intentionally brave spaces effectively emerge in response to the murders of George Floyd, Breonna Taylor, and Ahmaud Arbery as a way for Black employees to process and share their thoughts and fears. Similarly, they provided space to process the 2016 massacre at Pulse Nightclub, a gay nightclub in Orlando, Florida. Safe rooms allowed folks to share their sorrows and anxieties, to be seen and heard, and to be held in their grief.
While some leaders may think of safe rooms and intentionally brave workspaces as a distraction from work, I see it as a necessary component for processing these tragedies in the workplace that actually leads to employees being more available for their job, not less. It gives staff a sense that their organization supports them, nurtures them, and provides them with the kinds of opportunities that they need and want. What's more, this step can go a long way in helping all of us to understand each other better and create not just a better place to go to work but a better world in which to live.
* * *

DDS Dobson-Smith
is a licensed therapist, author, executive coach, speaker on leadership and growth and Reiki master — all in service of helping others grow and become who they are. Dobson-Smith is the Founder and CEO of SoulTrained, an executive coaching and leadership growth consultancy and the author of
You Can Be Yourself Here: Your Pocket Guide to Creating Inclusive Workplaces by Using the Psychology of Belonging
Learn more at
www.soultrained.com
.
* * *


Follow us on
Instagram
and
Twitter
for additional leadership and personal development ideas.
* * *


Posted by Michael McKinney at 05:26 PM
Permalink | Comments (0) | This post is about Human Resources