Triple Crown Leadership
: Building Excellent, Ethical, and Enduring Organizations
Robert Vanourek and Gregg Vanourek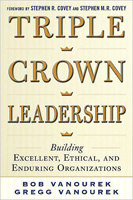 Format:
Hardcover, 272pp.
ISBN:
9780071791502
Publisher:
McGraw-Hill
Pub. Date:
July 13, 2012
Average Customer Review:

For Bulk Orders Call: 626-441-2024

Description and Reviews
From
The Publisher:
In today's fiercely competitive world, it takes more than "business as usual" to stay strong and stay ahead of the curve. It takes Triple Crown Leadership. Inspired by the most elusive championship in sports, the Triple Crown of horseracing, this compelling road map is designed for leaders at all levels, from supervisors to CEOs. If you want to win, you'll want this book.
Triple Crown Leadership
provides helpful tools for any leader seeking a better way. The book shows you how to:
Be excellent (achieve exceptional performance), ethical (do the right thing), and enduring (stand the test of time)
Align your organization for peak performance
Instill a culture of character
Lead with both "steel" and "velvet"
Achieve impact and sustainability while maintaining high performance.
Turn your company around after a breakdown.
Based on the authors' experience and interviews with over sixty organizations in eleven countries, this book provides compelling leadership lessons from an array of enterprises, including Zappos, Google, eBay, Infosys, Xerox, Spotify, Mayo Clinic, KIPP, Ashoka, and more. Executives Bob and Gregg Vanourek—a dynamic father and son team—show you how to achieve high performance, integrity, and sustainability.
In horseracing, it takes more than speed for a horse like Secretariat to win the Triple Crown. In organizations, it takes both head and heart, commitment to an inspiring cause, steel and velvet leadership, stewardship, and alignment—the practices of triple crown leadership.
Triple Crown Leadership
also provides hard-hitting, practical advice on leading turnarounds, startups, and social ventures—and addresses the leadership needed from CEOs, boards, senior managers, and even people without authority.

Reviews
"A rare combination of deep insight and helpful research, and an important book. Relevant and timely. Smart and helpful guidance for leaders about today's pressing problems."
—Stephen R. Covey and Stephen M. R. Covey, bestselling authors and father and son (from the Foreword)
"It's been more than thirty years since the sport of kings last saw a Triple Crown. We can't wait that long for the triple crown of leadership—the stakes are too high and the need too urgent. It's time to embrace this vision of lasting, ethical leadership."
—Daniel H. Pink, bestselling author of Drive and A Whole New Mind
"The Vanoureks have written the new leadership manifesto…. It is a gift to all of us who believe in the power of purposeful leadership."
—Richard Leider, bestselling author of Repacking Your Bags and The Power of Purpose
"A clarion call for anyone striving to create an enduring organization with lasting positive impact."
—David Gergen, Director of the Center for Public Leadership at the Harvard Kennedy School and CNN Senior Political Analyst, and Christopher Gergen, founder and CEO of Forward Ventures, father and son
"A powerful case for leaders who simultaneously combine ethics and excellence to create enduring organizations."
—Bill George, Harvard Business School Professor and Former CEO, Medtronic
"An extremely timely and practical book about the complex art and practice of leadership. Every leader of tomorrow must read this book today."
—James O'Toole, leadership author and professor
"An inspiring call to action, a challenging mandate, and a compelling road map for leaders across the public, private, or nonprofit sector. A must read."
—Marty Linsky, Harvard Kennedy School Faculty and cofounder, Cambridge Leadership Associates
"In a crowded marketplace of books on leadership, this one stands out. A book of wisdom and practical advice."
—Barry Z. Posner, coauthor, The Leadership Challenge

About the Authors
Bob Vanourek
was CEO of Sensormatic, a billion-dollar NYSE company, and serves as Chairman Emeritus of the Vail Leadership Institute. He has been CEO or officer of a number of global companies, including Pitney Bowes, Recognition Equipment, and Avery International, helping guide them through transformational turnarounds.
Gregg Vanourek
is an expert on leadership, entrepreneurship, and personal development. He teaches at the Stockholm School of Entrepreneurship and Royal Institute of Technology. He co-founded New Mountain.