A Framework of Organizational Tensions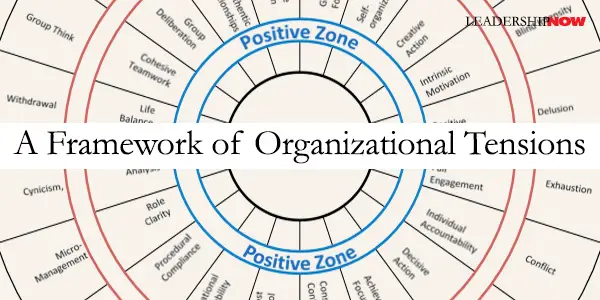 T
ENSIONS are objectives that seem to be in conflict. They are values that seem to be in opposition. We often treat them as either/or choices when
they should be treated as both/and dynamics
. Each value or characteristic supports and even makes possible the competing value.
Robert Quinn
has produced a valuable tool for understanding this concept in his book
The Positive Organization
. What makes it especially valuable is that it illustrates the options we have to the single values we hold so dear—there are possibilities and equally effective "right" solutions we can use to move us forward.
We tend to focus on the value that resonates most with us or the ones we are most familiar with. This often causes us to
get stuck
or to
jump from one ditch to the other
never realizing the true potential of our organization.
(This dynamic plays out in our personal lives as well.)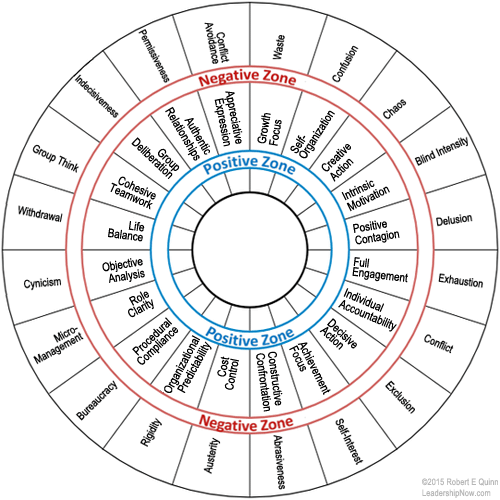 You will notice that each of the positive values in the inner circle is associated with a negative value on the outer circle. If we champion one value over another we put our organizations at risk for the negative outcomes associated with each of the 20 values on the diagram.
Every positive value without its contrasting value can become a negative in much the same way the overuse of a strength becomes a weakness.
For example, we need some predictability and control in any organization, but too much leads to rigidity. We also need some spontaneity and self-organization for people to flourish, but again too much can lead to organizational and personal chaos. We also miss the larger picture and usually misinterpret issues.

A person who seeks a predictable, smooth running organization often focuses on disruptions and disruptive influences; the natural inclination is to fix those disruptive problems. When we focus on a problem, we are not seeing the whole system. We are paying attention to something within the system. Likewise, when we focus on a single person, we are not focusing on the culture of which that person is a part.
When we have an agenda we tend not to see the whole picture. As leaders we need to see the broader context of every situation.
It's not about finding balance. It's about emphasis
—where to place the emphasis and when.
* * *
Of Related Interest:

Lift: How to Be a Positive Force in Any Situation
* * *


Like us on
Instagram
and
Facebook
for additional leadership and personal development ideas.
* * *

Posted by Michael McKinney at 04:45 PM
Permalink | Comments (0) | This post is about Human Resources , Positive Leadership , Problem Solving