What's Wrong with Leadership Training Today?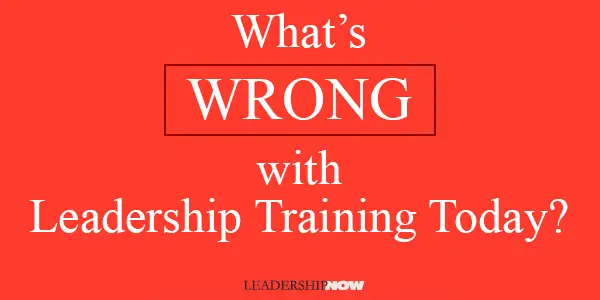 I
T'S A DIFFICULT TIME for leaders. "Our familiarity with and disrespect for our leaders," writes Harvard professor, Barbara Kellerman in
The End of Leadership
, "coupled with our feeling entitled and being emboldened, saps their authority, which then drains their power and influence."
Commenting on the 2011 budget-ceiling talks she finds that Barack Obama's followers are "more disposed to resist him than to support him….No one was able to lead…and no one was willing to follow." Perhaps no one was able to lead because no one was willing to follow.
Leading in America is now more difficult than ever "not only because we have too many bad leaders, but because we have too many bad followers." Kellerman cites lack of involvement as the culprit, but it goes further than that. We have never been taught how to support a leader in the right way. Followership is as important a skill as leadership.
Kellerman notes that the contract—you lead, I'll follow—between leaders and followers has been undermined "because of the information to which followers now have access, too many leaders are judged by too many followers to be unethical or incompetent or both." Familiarity with our leaders had bred contempt. Technology has changed the social landscape providing us with so much more information. But it has, I would argue, informed us more broadly, but for the most part, not more deeply—if we even had the time or the inclination to go more deeply. I would also suggest that we are not, at times, very good judges. We lack facts and context much of the time. What frames our judgments are often selfish concerns—just like our leaders. And too, we rarely judge others in the manner that we would like to be judged.
The End of Leadership offers a report on the state of leadership and followership today. Kellerman has surveyed the history of leadership to pinpoint a trend—the diminishing power and influence of leaders and people in authority and the increase of power and influence of ordinary people—followers. In recent years, communications technology has played a large part. "The effect on leaders is to diminish them. The more we know about how leaders and managers manage, the more they tend to shrink."
The contract between leader and follower has changed. The assumptions on which it was based has changed because first, "the old justifications for having power, authority, and influence are no longer so persuasive and second because people in the present think of themselves are more important, more entitled than did people in the past."
Kurt Anderson asked in New York magazine, Is Democracy Killing Democracy? He writes: So now we have a country absolutely teeming with irregular passions and artful misrepresentations, whipped up to an unprecedented pitch and volume by the fundamentally new means of 24/7 cable and the hyperdemocratic web. [There is ] the misapprehension that democratic governing is supposed to be the same as democratic discourse, that elected officials are virtuous to the extent that they too default to unbudging, sky-is-falling recalcitrance and refusal. And the elected officials, as never before, are indulging that populist fantasy. Just as the founders feared, American democracy has gotten way too democratic.
I wonder if we have—in our radical shift to the entitlement of followers and the bad leadership that encourages it—sowed the seeds for an overcorrection in the other direction. Perhaps we will find ourselves welcoming a society governed by extremely self-deferential leaders to sort it out. History shows us that when societies get to the point that they can't properly govern themselves, they don't get more disciplined and make the necessary corrections, they instead get behind anyone that will make all the "bad" go away—usually with negative consequences.
Because we have been able to "do" leadership in a way that has been less respectful of the follower and get away with it, doesn't mean we were doing it right. While old methods of leadership are not tolerated at the present time, it doesn't mean leadership itself has changed. The "right" way of leading people has never changed; our approach to leading people just swings back and forth from ditch to ditch. History shows us that we rarely get it "right."
Kellerman observes that in the world in which we actually live, "leaders tend to put self-interest ahead of the public interest." How true.
The idea that our leaders reflect who we are should give us pause. Much of the problem with leadership training, in my view, is that we are trying to develop something in leaders long after the train has already left the station. It's not that it can't be done. It' is just much harder. Good leadership development begins much earlier in life.
Given our situation, Kellerman asks, how do we learn to lead in the twenty-first century? How to learn to lead when leaders are diminished from what they were, even in the recent past? How to learn to lead when resources such as power, authority, and influence are scarcer than before—and when any number of followers is as likely to be resistant as deferent? And, finally, how to learn to lead when the context itself is fraught with complexity and constraint?
Could we develop betters leaders if we developed better followers and would better followers create a pool of better leaders? Should we be training for followership? Should we be teaching the right kind of followership is leadership?
The End of Leadership is a vitally important book that every leader/follower should read and consider, but it is the tip of a much larger discussion about leadership, followership and society. Kellerman writes that "it is meant as a caution about the future of leadership in the twenty-first century. For nearly everywhere, leaders are found wanting, followers are restive, and the context is changing—sometimes at warp speed. So unless we get a grip, the prognosis is grim."
Kellerman says that the leadership industry must make at least four changes:
It must end the leader-centrism that constricts the conversation.
It must transcend the situational specifics that make it so myopic.
It must subject itself to critical analysis.
It must reflect the object of its affection—change with the changing times.
Kellerman lays the foundation with this: "We need to think of leadership as a creative act—for which leaders and followers both are educated, for which leaders and followers both are prepared over a lifetime of learning….There are ways to educate women and men so they learn to be good, smart followers as well as good, smart leaders, and develop as large capacity for contextual intelligence as for emotional intelligence." Absolutely.
| | | |
| --- | --- | --- |
| |   | Given the precipitous decline of leaders in the estimation of their followers, are there alternatives to the existing models—ways of teaching leadership that take into account the vicissitudes of the twenty-first century? |
* * *


Like us on
Instagram
and
Facebook
for additional leadership and personal development ideas.
* * *

Posted by Michael McKinney at 03:19 PM
Permalink | Comments (0) | TrackBacks (1) | This post is about Followership , Government , Leaders , Leadership , Leadership Development