What Matters Now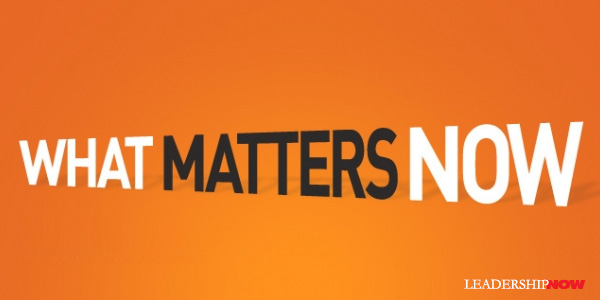 What Matters Now by Gary Hamel is an important book. It is an invitation to rethink the fundamental assumptions we have about capitalism, management, institutions, and life at work. It is, as Hamel describes it, "a blueprint for creating organizations that are fit for the future and fit for human beings."
It would be wrong to assume that hierarchies and managers will go away. But we need to rethink how we operate within our organizations.

The book is divided into five fundamental, make-or-break issues that will determine whether your organization thrives or dives in the years ahead: values, innovation, adaptability, passion and ideology. Here are some of his thoughts that become more powerful as they sink in:
Values Matter Now.
• What matters now is that managers embrace the responsibilities of stewardship.
• Every institution rests on moral footings, and there is no force that can erode those foundations more rapidly than a cataract of self-interest.
• I think corporate life is so manifestly profane, so mechanical, mundane, and materialistic, that any attempt to inject a spiritual note feels wildly out of place—the workplace equivalent of reading the Bible in a brothel.
Innovation Matters Now.
• Post these simple questions on your company's idea wiki: First, what are the thoughtless little ways we irritate customers and what can we do to change that? And second, what are the small, unexpected delights we could deliver to our customers at virtually no additional cost?
• Whenever you identify a convergent belief, ask, does this rest on some inviolable law of physics, or is it simply an artifact of our devotion to precedent? By working systematically to surface these invisible dogmas, you can turn reactionaries into rebels.
• To innovate, you need to see your organization and the world around it as a portfolio of skills and assets than can be endlessly recombined into new products and businesses.
Adaptability Matters Now.
• To thrive in turbulent times, organizations must become a bit more disorganized and unmanaged—less structured, less hierarchical, and less routinized.
• There are only two things, I think, that can throw our habits into sharp relief: a crisis that brutally exposes our collective myopia, or a mission so compelling and preposterous that it forces us to rethink our time-worn practices.
• To put it bluntly, the conversation about "where we go next" should be dominated by individuals who have their emotional equity invested in the future rather than the past. It needs to be led by individuals who don't feel the need to defend decisions that were taken ten or twenty years ago.
Passion Matters Now.
• It's impossible to unleash human capabilities without first expanding the scope of employee autonomy. People need the freedom to challenge precedent, to "waste" time, to go outside of channels, to experiment, to take risks, and to follow their passions.
How, many policies in your company exist only to preserve that fiction that the higher-ups really are in control? How many rules enforce standardization at the expense of initiative and passion, while delivering few if any performance benefits?
Ideology Matters Now.
• The creed of control reigns supreme. If you doubt this, ask yourself: Is your organization any less rules-driven than it was ten or twenty years ago? Do people on the front lines feel any less controlled? Are their freedoms any less abridged? And are little cogs any less obsesses with becoming big cogs?
• Give someone monarch-like authority, and sooner or later there will be a royal screw-up.
• We don't have to content ourselves with an organizational model that was designed to serve the interests of ancient military commanders and smokestack-era CEOs.
It's time to re-invent our leadership. This book will help in that process.
* * *


Like us on
Instagram
and
Facebook
for additional leadership and personal development ideas.
* * *

Posted by Michael McKinney at 09:54 PM
Permalink | Comments (0) | General Business , Leadership , Management