Shogun Yoritomo-Tashi on Leading by Example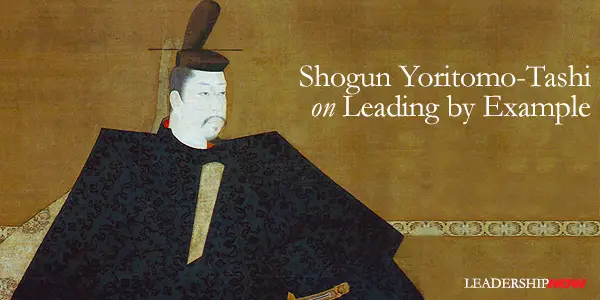 ANCIENT Shogun Yoritomo-Tashi believed that the art of influencing others was the key to success. The Japanese statesman and philosopher believed that the spirit of the individual continuously exerts influence, even as the flower also exerts influence by spreading its fragrances in the air. But just as the blossom can not tell whether its fragrance spreads, so none of us can say how far our influence may reach. From his writings we have his take on the dynamics of influence by example:
The reciprocal influence which individuals exercise on one another is the cause of many evils difficult to conjure.… The influence of example is considerable. One of the greatest obstacles to the doing of good actions is the timidity based on the fear of responsibility, which haunts mediocre minds.

It is toward these that he who would wield the power of domination should turn his attention. It is sufficient to impose on these timorous souls the resolution to perform the task that they themselves desire to see accomplished, and to set for them, the example of his achievement. In this way, their vacillating will strengthen itself by the moral support which they will be certain to feel, and their anxiety about the opinion of others will be soothed by the example of those whom they recognize as their superiors, and whose superiority they are glad to acknowledge.

It is these, then, whose minds are strengthened by renewed practices of wise reflection, who should watch carefully over their own acts, so that their example may be, for the persons over whom they have an influence, a source of improvement and constant elevation.
* * *


Like us on
Instagram
and
Facebook
for additional leadership and personal development ideas.

Posted by Michael McKinney at 08:51 AM
Permalink | Comments (0) | This post is about Leadership