Reinventing You:
Define Your Brand, Imagine Your Future
Dorie Clark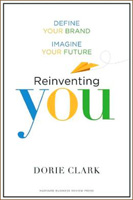 Format:
Paperback, 240pp.
ISBN:
9781633693883
Publisher:
Harvard Business Review Press
Pub. Date:
October 3, 20173
Average Customer Review:

For Bulk Orders Call: 626-441-2024

Description and Reviews
From
The Publisher:
A step-by-step guide to reinventing
you
Are you where you want to be professionally?
Whether you want to advance faster at your present company, change jobs, or make the jump to a new field entirely, the goal is clear: to build a career that thrives on your unique passions and talents. But to achieve this in today's competitive job market, it's almost certain that at some point you'll need to reinvent yourself professionally. Consider this book your road map for the next phase of your career journey.
In
Reinventing You
, branding expert Dorie Clark provides a step-by-step guide to help you assess your unique strengths, develop a compelling personal brand, and ensure that others recognize the powerful contribution you can make.
Mixing personal stories with engaging interviews and examples from well-known personalities—Mark Zuckerberg, Al Gore, Tim Ferriss, Seth Godin, and others—
Reinventing You
shows how to think big about your professional goals, take control of your career, build a reputation that opens doors for you, and finally live the life you want.

Reviews
"Be forewarned . . . you need this book! The good news is that you will love it and can make it the foundation of the next steps of your career and your life."
—Len Schlesinger, President, Babson College; former Vice Chairman and COO, Limited Brands; coauthor, Just Start: Take Action, Embrace Uncertainty, Create the Future
"At a time when social media have made it more important than ever to manage your reputation wisely, Dorie Clark has put together an essential—and eminently readable—guide to doing just that."
—Bo Burlingham, author, Small Giants: Companies That Choose to Be Great Instead of Big; Editor at Large, Inc. magazine
"During my twenty-nine years as CEO, some of my very best hires were people who had reinvented themselves. In this terrific book, Dorie Clark shows how reinvention can be achieved systematically. You will learn how to define the value you bring, as well as how to cultivate and communicate that value to others."
—Gary Hirshberg, cofounder and Chairman, Stonyfield Farm, Inc.
Dorie Clark has important advice for people navigating the turbulent waters of jobs and careers. We're all in the same fix together—but today everyone's a free agent, promoting and selling themselves. This book explains why that's necessary and how to do it effectively."
—Robert Reich, former US Secretary of Labor
"Insightful and practical, Reinventing You is a modern-day guide to self-discovery in pursuit of career satisfaction and success. Full of illuminating case studies and anecdotes, the book provides valuable advice for anyone just starting out in the workforce, as well as for those in mid-career seeking to build or enhance their reputations or to change direction."
—Amy C. Edmondson, Novartis Professor of Leadership and Management, Harvard Business School; author, Teaming: How Organizations Learn, Innovate, and Compete in the Knowledge Economy

About the Author
Dorie Clark
is a marketing strategy consultant and frequent contributor to Harvard Business Review and Forbes. Recognized as a branding expert by the Associated Press, Clark has worked with a diverse range of clients, including Google, the Ford Foundation, Yale University, the Mount Sinai Medical Center, and the National Park Service. A former presidential campaign spokeswoman, Clark is Adjunct Professor of Business Administration at Duke University's Fuqua School of Business. She has taught marketing and communications at Tufts University, Suffolk University, Emerson College, and Smith College Executive Education and has guest lectured at universities including Harvard, Georgetown, and the University of Michigan. She is quoted frequently in the international media, including NPR, the BBC, and U.S. News & World Report. She is also a columnist for Mint, India's second-largest business newspaper.