Ownership Thinking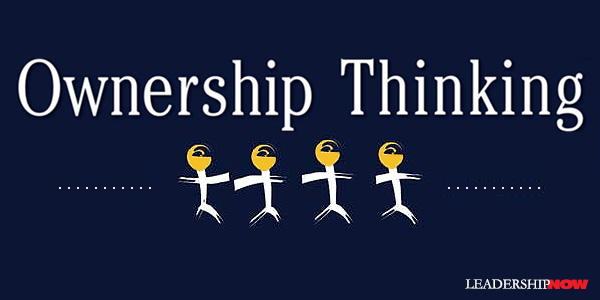 Ownership Thinking is about developing leaders at all levels. "Fundamentally," writes author Brad Hams, "Ownership Thinking is about moving employees away from the 'me' way of thinking and towards concerns of the business and its financial performance." This is leadership thinking in a business setting.
When people understand the business, their role in it, and are informed of what is going on and take responsibility for the outcomes, then they become better stewards of the company's resources and help to create wealth. Hams has found that the vast majority of people "want to engage and contribute, and feel much better about themselves when they have the opportunity to do so … and they have the capacity to do so."
We often frustrate that effort and create cultures of entitlement because, in the words of Judith Bardwick author of Danger in the Comfort Zone, "managers are unwilling to do the work of requiring work." Hams says his mission in life is to eradicate habits of entitlement in organizations.
People who actually produce things do so primarily for two reasons: (1) They have a strong work ethic. In other words, they have to believe that rewards come only with hard work, and (2) They enjoy producing. It is exciting for them, and the reward for producing is not only the things they are able to afford as a result of it, but the personal growth and sense of worth that come from producing: that is, true self-esteem.
A workforce that is helping to create wealth should be able to participate in the wealth they are creating. However, incentive plans should be self-funding, and "it is the obligation of ownership and leadership to teach them how to do that and to provide them with the tools and training necessary to accomplish the task."
Simply put, your employees need to know what's going on. In a chapter entitled, Your Employees Think You Make Wheelbarrows of Money, Hams relates that when he asks the question: "Your company had 12 million in sales last year, what do you think the profit was?" it is not uncommon to hear 50% from employees of companies where financial information is not shared or business acumen taught. "In the absence of information, people make stuff up."
Generally speaking, the people with the greatest understanding and expertise in any given area are the people who are actually doing the work, and these people are not necessarily management. For an organization to achieve excellence, it must engage all of its organization members.
Ownership Thinking is a how-to book. Hams explains how to create incentive plans that work (plans that clearly align employees' behavior to the organization's business and financial objectives), how to teach financial skills (how the company makes money and how they add - or take away – value), creating the right performance indicators, rapid improvement plans and how to implement Ownership Thinking for the long-term. "Practicing Ownership Thinking will allow you, as an owner or leader, to rest easier knowing that your employees are making decisions and taking actions that are aligned with what you would do yourself."
* * *


Like us on
Instagram
and
Facebook
for additional leadership and personal development ideas.
* * *

Posted by Michael McKinney at 10:40 AM
Permalink | Comments (0) | This post is about General Business , Human Resources , Management , Motivation