Driving Results Through Social Networks
: How Top Organizations Leverage Networks for Performance and Growth
Robert L. Cross and Robert J. Thomas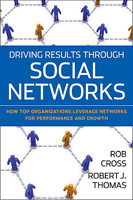 Format:
Hardcover, 240pp.
ISBN:
9780470392492
Publisher:
Jossey-Bass
Pub. Date:
January 9, 2009
Average Customer Review:

For Bulk Orders Call: 626-441-2024

Description and Reviews
From
The Publisher:
Driving Results Through Social Networks
Most leaders are desperately seeking ways to get greater results from their organizations. While they are quick to acknowledge the value and power of informal networks for getting work done, far too often leaders apply flawed approaches to generating business results from networks. What they need is a proven method for assessing and managing networks for strategic purposes.
Driving Results Through Social Networks
shows executives and managers how to obtain substantial performance and innovation impact by better leveraging these traditionally invisible assets. For the past decade, Rob Cross and Robert J. Thomas have worked closely with executives from over a hundred top-level companies and government agencies. In this groundbreaking book, they describe in-depth how these leaders are using network thinking to increase revenues, lower costs, and accelerate innovation.
Throughout the book, the authors offer clear principles and practical tools to drive collaborations that deliver the greatest performance impact. By using the network analysis techniques outlined in this book, leaders will be able to address such questions as: Does information flow smoothly across formal structure and thus allow an organization to leverage scale and expertise in product or service offerings? Is innovation spurred at key points by effective networks bringing together functions, offerings, or technical capabilities? Is the organization overly focused on a few decision-makers, roles, or experts that are invisibly but dramatically slowing the work and efficiency of many others? Once social networks become visible, leaders can address these and other questions in ways that have an immediate impact on performance.
Driving Results Through Social Networks
is filled with illustrative examples from such successful companies as Procter & Gamble, Microsoft, United Technologies, Novartis, and Mars that have used network analysis to yield actionable insights and measureable business impact.

Reviews
"Organizational network analysis has helped Ketchum improve the functioning of one of our largest offices, as well as one of our largest clients. It gives a practical map of relationships that you can use to find clarity amidst the ambiguity—I heartily recommend this book!"
—Ray Kotcher, CEO, Ketchum
"Shows executives how to leverage seemingly invisible networks for performance and innovation impact. Through compelling and detailed cases the authors demonstrate how top organizations are deriving measurable business impact by cultivating networks that support strategic objectives—not simply building collaborations indiscriminately. The ideas are highly impactful and ones we are using on several fronts at Monsanto."
—Mark Showers, chief information officer, Monsanto
"Cross and Thomas continue to break new ground in the study—and most importantly in the practical application—of social network analysis to organizational results. Their framework for examining networks is both specific and actionable. The ideas in Driving Results Through Social Networks will continue to help our leaders maximize their own effectiveness and drive Hewlett-Packard forward."
—Steffen Landauer, chief learning officer, Hewlett-Packard
"Many of us spend a significant amount of managerial time trying to constantly reorganize into global, matrixed organizations and wonder why it's so challenging to assimilate and engage talent while driving change and innovation. Cross and Thomas suggest a very novel idea we are increasingly employing at Citi—that we should be focused on analyzing, building, and leveraging the social networks that drive how work really gets done."
—Greg Burns, chief learning officer, Citi
"As a practitioner of leadership development, I can say with confidence that it is rare to come across a solid academic idea that translates into practical actions for a firm. The ideas in this book offer not only new ways to understand how organizations work but, most importantly, new ways to make organizations work better."
—Lisa Vertucci, managing director, Barclays Capital
"The business world is experiencing tremendous pressures to be more flexible and able to harness the knowledge and power of people. Cross and Thomas provide important insights into how to address these issues by leveraging social networks. Managing social networks, as an evolving field of management practice, is going to make a big difference in business performance."
—Steve Maritz, chairman & CEO, Maritz Inc.

About the Author
Rob Cross
is associate professor, McIntire School of Commerce at University of Virginia, where he specializes in organizational behavior. He is also the director of The Network Roundtable (www.thenetworkroundtable.org), a consortium of over 100 organizations focused on applications of network ideas that yield measurable business impact and strategic advantage.
Robert J. Thomas
is executive director of Accenture's Institute for High Performance and a senior executive based in Boston, Massachusetts. He specializes in leadership, organization design, and transformational change.

Table of Contents
| | | |
| --- | --- | --- |
| | | |
| | Preface | |
| | Acknowledgments | |
| | Introduction | |
| | | |
| | Part One: Alignment | |
| 1 | Aligning Networks with Strategic Value Propositions | |
| 2 | Working Through Networks to Align Culture and Strategy | |
| | | |
| | Part Two: Execution | |
| 3 | Managing Rapid Innovation Through Effective Networks | |
| 4 | Driving Financial Return Through Network Investments | |
| 5 | Delivering Results Through Process Networks | |
| 6 | Delivering Results Through Project-Based Networks | |
| | | |
| | Part Three: Adaptation | |
| 7 | Driving Performance by Replicating High Performers' Networks | |
| 8 | Speeding Productivity in Newcomers and Avoiding Knowledge Drain | |
| 9 | The Road Ahead: Emerging Opportunities for the Network Perspective | |
| | | |
| | About the Authors | |
| | Notes | |
| | Index | |

Find Items On Similar Subjects

Crucibles of Leadership
: How to Learn from Experience to Become a Great

Geeks and Geezers
: Leading and Learning for a Lifetime Leader