The Power of Habit
Habits will always be with us. Some good. Some bad. But how do you replace bad habits with good habits? More importantly, how often do we ask ourselves if what we are doing is really just a habit? We are less intentional than we think we are.

Charles Duhigg has written a book for all of us:
The Power of Habit
. After reading it you will understand how habits are formed and what you can do about it. You will also look at habits in a new way. Habits infiltrate our organizations and become invisible forces to contend with that we never realized were there. Learning to spot them is key to our success. Consider the following story:
As a newspaper reporter in Baghdad, Duhigg heard about an officer conducting an impromptu habit modification program in Kufa, a small city ninety miles south of the capital.
He was an army major who had analyzed videotapes of recent riots and had identified a pattern: Violence was usually preceded by a crowd of Iraqis gathering in a plaza or other open space and, over the course of several hours, growing in size. Food vendors would show up, as well as spectators. Then, someone would throw a rock or bottle and all hell would break loose.

When the major met with Kufa's mayor, he made an odd request: Could they keep the food vendors out of the plazas? Sure, the mayor said. A few weeks later, a small crowd gathered near the Masjid al-Kufa, or Great Mosque of Kufa. Throughout the afternoon, it grew in size. Some people started chanting angry slogans….At dusk, the crowd started getting restless and hungry. People looked for the kebab sellers normally filling the plaza, but there were none to be found. The spectators left. The chanters became dispirited. By 8PM, everyone was gone.
In a sense, a community—your organization—is a giant collection of habits. Later, when Duhigg talked to the major, he said, "Understanding habits is the most important thing I've learned in the army." "
Once you see everything as a bunch of habits," says Duhigg, "it's like someone gave you a flashlight and a crowbar and you can get to work.
"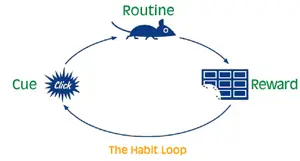 A habit is the brain's way of saving effort. Duhigg has broken the formation of habits into a three-step loop: the cue ("a trigger that tells your brain to go into automatic mode and which habit to use), the routine ("which can be physical, or mental or emotional"), and finally there is the reward (which helps your brain figure out if this particular loop is worth remembering for the future).
The key to remember here says Duhigg is that "When a habit emerges, the brain stops fully participating in decision making. It stops working so hard, or diverts focus to other tasks. So unless you deliberately fight a habit—unless you find new routines—the pattern will unfold automatically."
Breaking habits down in this way makes them easier to deal with. If we can learn to identify the cues and rewards, we can change the routines. We can live life a bit more intentionally.
Duhigg shows how habits played a part in the success of Olympic swimmer Michael Phelps, Starbucks CEO Howard Schultz, and civil-rights hero Martin Luther King, Jr. He goes behind the scenes at Procter & Gamble, Target superstores, Rick Warren's Saddleback Church, and NFL locker rooms. He explains how improving a single habit rippled out to improve an entire organization—Alcoa. Fascinating material to think about on many levels.
How much of what you do is on autopilot?
How much of what your organization does is on autopilot?
Of Related Interest:

Breaking Old Habits
| | | |
| --- | --- | --- |
| |   | Habits are not destiny. They can be changed if we understand how they work. Habits cannot be eliminated, but they can be replaced. |
* * *

Like us on
Facebook
for additional leadership and personal development ideas.
* * *

Posted by Michael McKinney at 07:08 PM
Permalink | Comments (0) | This post is about General Business , Human Resources , Management , Personal Development