Help Them Grow or Watch Them Go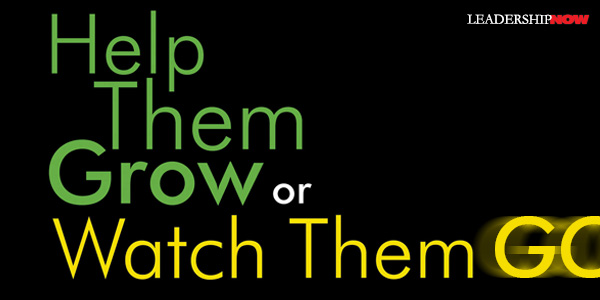 FINDING good employees is not enough. Organizations must have a plan in place to keep the employees they have. A priority for many employees today is career development opportunities.
The problem is very few managers and leaders feel they have the time to work on career development. Yet career development, say Beverly Kaye and Julie Winkle Giulioni in Help Them Grow or Watch Them Go, is nothing more than helping people grow. And that's job one for leaders.
Kaye and Giulioni contend that it is not as hard as we usually make it out to be. "Quality career development boils down to quality conversations"—frequent, short conversations that occur within the natural flow of work. They suggest that we "reframe career development in such a way that responsibility rests squarely with the employee and that our role is more about prompting, guiding, reflecting, exploring ideas, activating enthusiasm, and driving action."
Their framework for career development is organized around three types of conversations:
Hindsight conversations. These conversations are meant to help develop self-awareness—where they have been what they are good at. This is even more apparent with by good feedback. "Helping people look back and inward also provides a reservoir of information that allows employees to move forward and toward their career goals in intentional ways that will produce satisfying results."
Foresight conversations. What an employee learns about themselves in hindsight needs to be applied in the context of what is going on around them. "When you help your employees develop the ability to scan the environment, anticipate trends, and spot opportunities, you provide a constructive context for career development."
Insight conversations. These conversations leverage what your employee learns from the convergence of the insight and foresight conversations. Here you guide them into practical steps they can take to be where they want to be. "Onward and upward has been replaced by forward and toward." Today, it's not about moving up the ladder but moving to the place you want to be. Kaye and Giulioni suggest that we learn to help them grow in place. This requires a shift in thinking. "The challenge of growing in place involves stripping titles from our thinking and instead focusing on what the employee needs to experience, know, learn, and be able to do."
Too frequently we limit the scope of career conversations, thinking they're only about jobs, promotions, or stretch assignments—the actions employees can take to move forward. Important? Yes. But that's just a drop in the bucket of conversations you can have with employees.
We have conversations about the work anyway, so why not make it a teachable moment. "A few minutes of conversation can help others slow down enough to reflect, bring deep insights to the surface, verbalize important messages, and consider how to leverage their expanding skills and knowledge base."
If you don't think you have the time to incorporate this vital task in what you do, this book is for you. Kaye and Giulioni offer templates, guidelines, and sample conversations and questions that you can adapt to your own situation. With their approach, career development stays fresh because each employee's career plan is unique and done in real-time.
| | | |
| --- | --- | --- |
| | | Career development should flow naturally out of a leader's genuine concern for others. The framework work provided in Help Them Grow or Watch Them Go provides a way of thinking to make that process happen naturally and effectively and at the most appropriate times. |
* * *


Follow us on
Instagram
and
Twitter
for additional leadership and personal development ideas.
* * *

Posted by Michael McKinney at 10:31 PM
Permalink | Comments (0) | This post is about Human Resources , Management