How to Align Yourself (And Others) Up, Down, Sideways, And Diagonally on the Chain of Command to Improve Outcomes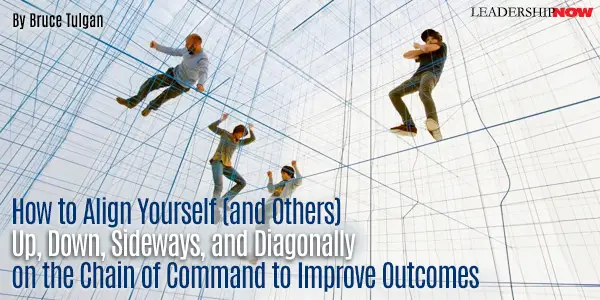 YOU are likely being asked to "work things out at your own level" in your job more and more. You've probably asked your direct reports to work things out at their own level, too. The problem is that, too often, accountability and results suffer because no one has the authority to make decisions and get things done.
You, your colleagues, and your direct reports are grappling with what I call "the authority conundrum." The goal is to empower collaboration throughout the organization as far down the chain of command as possible. But when there's a problem and you're left to work things out at your own level, by definition nobody has the power of rank to resolve things swiftly and efficiently. And the conundrum emerges even when you are a manager. One person might have a higher rank, but no one has direct authority, which complicates the relationship even more.
What can you do?
The solution is all about alignment. How you align yourself in terms of decision making and support—and with whom—is the first core mechanism of becoming indispensable at work.
Remember, somebody is always in charge. Decisions are being made at a higher level. If you are going to have the power to operate without authority and work things out at your own level—what I call working sideways (and diagonal)—then, first, you've got to align yourself with the people making decisions: you've got to go vertical.
Go Vertical Before Going Sideways (or Diagonal)
At work you deal with so many people from all over the organization chart—up, down, sideways, and diagonal— that in order to keep your priorities straight and set yourself up for success, you must align yourself vertically along the way. You need to know clearly where you have discretion and where you don't. The only place to get that clarity is from above.
Get in the habit of over-communicating with your boss a little. Clarify expectations, priorities, and parameters. Ask for reviews of drafts or work in progress. Make sure you are maintaining some form of highly-structured, one-on-one communication on a regular basis.
The same goes for your direct reports. You must align with them so they understand what is expected of them and have the authority to make choices and "work things out at their own level."
What does it take to attain such vertical alignment? Let's look at managing up (managing your bosses) and down (just plain managing your direct reports), because what needs to happen for alignment in both directions is the same. If you are anybody's boss, that is a huge responsibility. Do not take it lightly. And if your boss is not managing you, then you had better start managing your boss.
Align with Your Boss to Manage Competing Priorities
Let's say you're involved in a special project that requires you to regularly collaborate with others. But over time, this cross-functional work requires more and more of your daily effort. Often, this is because of "scope creep"—the bounds of the project expand. What happens to you, though, is what I call "role creep." Your role in this special project takes on its own life and starts to take over your job.
You likely try to deal with it. But you can't pull out of this overcommitment alone: everyone and everything are behind schedule, and it looks as if this project will continue even longer.
At this point, you have three options:
Try to be a superhero and keep doing everything. But you will probably find yourself becoming more and more overcommitted. Maybe you disappoint your boss or your project team. You probably end up disappointing both.
Double down on your commitment to your role in this project and diminish your commitment to your primary job.
Diminish your commitment to this project and double down on your commitment to your primary job.
Regardless of the option you choose, the most important thing is, first, go vertical or manage up. You need to be in dialogue with your boss on the matter, checking in at every step.
Aisha is a marketing executive who found herself overcommitted after being pulled into a seemingly endless project on a cross-functional team. She wisely sat down with her boss to discuss what to do. It turned out that neither saw much of a choice; the project had to be done and so did her regular job. Aisha was the only real candidate for both. But she felt a whole lot better making the choice to play the superhero with her boss's support. Now they both shared responsibility for the fact that Aisha was carrying an overwhelming workload for an extended period of time.
Aisha kept up the regular structured dialogue with her boss, and at some point, the boss saw that she was doing a spectacular job balancing the overload—and he recommended her for a promotion. But even if Aisha had begun to drown in overcommitment and not handled it well, because she and her boss stayed in dialogue, they were both more likely to have seen that coming. Her boss could have provided her with extra support staff or someone who could backfill part of Aisha's work in her primary job or on the extra project, or both.
The key is, no matter what option Aisha had chosen, being in alignment with her boss ensured she would have the support and resources she needed to get the work done and be appropriately rewarded and recognized for her efforts.
Align with Your Direct Reports
Just as you must stay aligned with your boss, your direct reports need to stay aligned with you, and you need to take responsibility for ensuring that alignment.
Practicing regular, structured dialogue with every single person who reports to you is how you make sure they have the power they need to work things out at their level—to make decisions and take action. Are there problems that need solving now or that are hovering on the horizon? Are there any needed extra resources you should secure, or any instructions or goals that aren't clear? Has anything happened since the last time you talked to the person that you should know about?
So, first, closely track your direct reports' workloads—monitor every individual's available productive capacity (what many refer to as "bandwidth"—in other words, "Exactly how much more work can you handle?").
Second, make sure you are not the one who is overcommitting your own direct reports.
Third, when your direct reports do start taking on so much that they risk overcommitment, use your regular structured dialogues with them to help them balance all of their competing priorities by providing the kind of ongoing support Aisha's boss gave her.
Aligning Yourself Sideways—and Diagonal
If you are doing the work I've just described to align vertically, up and down, at every step, then you'll be in a much stronger position to maintain alignment in your sideways and diagonal working relationships too. You likely are conducting the majority of your communication via email and virtually in structured project meetings. Take this as some good news! Good use of structured meetings mitigates a lot of miscommunications and misunderstandings.
The bad news is, these meetings can start to take on a life of their own. Be rigorous about good virtual meeting protocol. Take detailed notes. Continue conversations one-on-one and in small groups outside of the team meeting, when you can. Make an outline of who needs to know what information, and structure your meetings around that outline with other team members.
My firm's decades of research show that the more rhyme and reason—substance and structure—that you put into your communication in any working relationship, the better things will go: fewer unnecessary problems occur, and those that do get identified are solved more quickly; resources are better planned and less often squandered; people are more likely to concur about what they've agreed on; and fewer conflicts occur within the ranks.
* * *

This is adapted from Bruce Tulgan's book
The Art of Being Indispensable at Work: Win Influence, Beat Overcommitment, and Get the Right Things Done
, from Harvard Business Review Press. Tulgan is the best-selling author of
It's Okay to Be the Boss
and the CEO of RainmakerThinking, the management research, consulting and training firm he founded in 1993. All of his work is based on 27 years of intensive workplace interviews and has been featured in thousands of news stories around the world. You can follow Bruce on Twitter
@BruceTulgan
or visit his website at
rainmakerthinking.com
.
* * *


Like us on
Instagram
and
Facebook
for additional leadership and personal development ideas.
* * *


Posted by Michael McKinney at 07:55 AM
Permalink | Comments (0) | This post is about Human Resources