Is a Lack of Intentionality Holding You Back?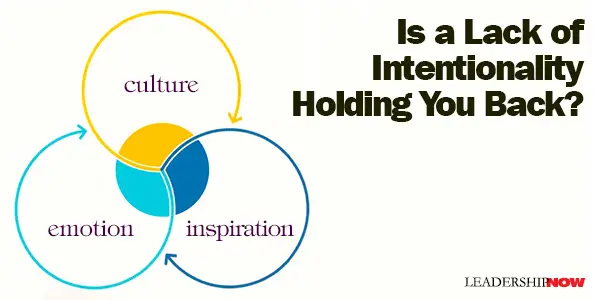 WHAT ARE the defining characteristics of successful leadership?
Mark Sanborn identifies them as clarity and intentionality in The Intention Imperative. Clarity, he says, "tells you where you're headed" and intentionality is "the consistent action you'll take to get there."
To explain, Sanborn takes us back to when Domino's found clarity and discovered how they were going to get there. With clarity of purpose that took them back to their roots, and intentionality, they became an e-commerce company that happens to sell pizza. As a result, Dominos stock has risen 5000 percent since 2008, outperforming all of the world's largest tech companies.
Leading with clarity and intentionality makes the difference. He offers the following chart to illuminate the effect of clarity and intentionality on our leadership effectiveness.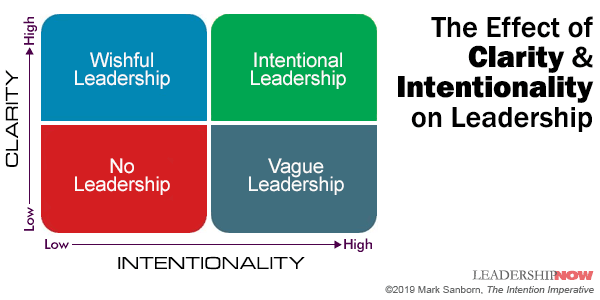 The quadrant of No Leadership is negligent leadership—no direction and no way to get there. Vague Leadership has a bias for action but lacks a clear idea of where they're going. Wishful Leadership knows where they want to go but haven't figured out the how or aren't taking consistent action to get there. Intentional leadership is effective leadership. "Intentional leadership is knowing where you want to go and taking consistent action in the world as it is, not the world as it was, to get there." There is a lot contained in that last statement and is the subject of this book.
Intentional Leadership consists of three imperatives: Inspiration, Culture, and Emotion.
The Culture Imperative
Culture gets a lot of attention and is considered critical to success, but few organizations actually do much about it. At best, it becomes an HR function.
Sanborn defines culture as "what we think and believe, which then determines what we do and what we accomplish." He lists six reasons why it matters so much, but this reason caught my attention. I had never looked at it from this perspective. He says, "Culture is a corporate immune system that protects against variance, decline, or abandonment by identifying and combating threatening forces like toxic partners, disjointed processes, and bad decisions."
Culture often takes a back seat—though we know better—because we focus on the wrong things or think it is all about making employees happy. "Making people happy isn't the job of an intentional leader. The job of an intentional leader is giving employees the tools—the philosophy, the training, the communication, and the incentives—to be successful." Sanborn offers five levers to create, change, and/or maintain culture—intentionally.
The Inspiration Imperative
Inspiration comes from purpose and the mission. It's more than motivation or engagement which are "task-focused and lack the sustaining power of inspiration."
Inspiring leadership begins with you. You find it in yourself first so that you can bring it out in others. Inspiration can be found in solitude, those you associate with, curiosity, a healthy sense of humor, gratefulness, service and exercise. "To find your purpose is to find your inspiration." From this foundation you can guide others to their inspiration.
Sanborn offers ten tools for inspiration. Connection with your team, your example, empathy, linking purpose to work, providing challenges and education, appreciation, and a good story are among the ten.
The Emotion Imperative
We have entered the emotion economy. The customer wants to feel successful after the fact, not just happy. "Are you happier you did business with us than with someone else?"
You want customers happy they chose you—to feel successful. "The old notion that a company merely needs to provide a good or service withers away when we start to understand that it is not the product or service itself that matters—what matters is which emotion your company elicits from its customers."
The intentional leader knows that this goes beyond customer service. That's part of it. "A customer's emotions start well before they enter your sales funnel. The new economy has expanded the points at which your potential customers will first interact with your company. Across all levels of your organization, ask yourself how each impacts the customer's happiness and feelings of success. This includes marketing, product design, sales, and, yes, customer service."
There are a lot of great insights in this book. Through a series of case studies that go beyond the usual suspects—a parking garage, High Point University, Acuity Insurance, Savannah Bananas baseball, Texas Roadhouse, and Envisioning Green landscaping—and interviews, he walks us through the thinking behind intentional leadership and its three imperatives to see how they connect. Here is a sampling of the comments from organizations featured in the book:
Nido Qubein, president of High Point University: "I just get in front of our team. I walk around and pat people on the back, shake hands, share a laugh. It's not complicated. I make time for moments of joy each day, and the time I spend in the café talking to students and staff members makes me feel good. Students talk selfies with me. If a student is on their phone talking to Mom and Dad, I grab it and talk to their parents. I'm present."
Ben Salzmann, CEO Acuity Insurance: "You can't innovate in a vacuum. If you take the best genius and give them a year, feed 'em the best food and lock 'em in a room—a year later they don't look so smart. Take the same person and let them talk and look around and interact, and they will come up with great innovations. Stimulus is critical."
Kent Taylor, founder and CEO of Texas Roadhouse: "If we think about a new idea, I run it through twenty people—managing partners, market partners, kitchen managers, service managers, meat cutters. I don't create ideas in a distant office. When it comes to employees, I am always asking, Are they happy? Do they enjoy their job? That's important because I believe that happy employees create happy guests, which creates happy accountants!"
Erika Johns, co-owner of Envisioning Green: "Our culture is fun and positive. We aren't afraid to laugh and joke around, but we know how to work hard. You spend more time with your co-workers than your family a lot of the time, so it's important to have some fun at work."
All of the examples point to the fact that inspiration, culture, and emotion, are created and maintained with intentional leadership. Sanborn completes the book with thirty things that you can do now to lead intentionally based in reality—the world as it is.
* * *


Like us on
Instagram
and
Facebook
for additional leadership and personal development ideas.
* * *


Posted by Michael McKinney at 06:59 AM
Permalink | Comments (0) | This post is about Human Resources , Leadership