How to Turn Your Team Around in Six Stages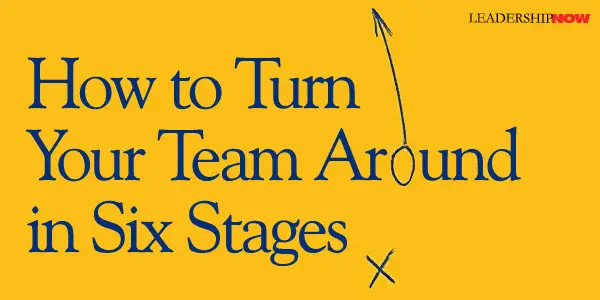 HOW DO YOU transform a losing climate into one that fosters collaboration, innovation, and productivity?

Losing is not necessary or permanent, but to turn it around you need a leader who can see the truth, identify where things that have gone wrong, and broadcast the reality of possible in spite of what's actually happening. A turnaround is really a change in culture—changing the culture of the team or organization.
In Team Turnarounds, authors Joe Frontiera and Daniel Leidl present a six-stage Team Turnaround Process. While many of the examples are from sport franchises—Colts, Eagles, Steelers—and the people they interviewed there, they also include turnaround stories of Domino's pizza, Spider-Man: Turn off the Dark Broadway show, and the state of Michigan.
Each stage contains specific developmental milestones—principles that leaders and their teams typically master before proceeding to the next stage:
Stage I: Leading Past Losing
Stage I is an investigation into why your organization is losing. "Throughout this stage, you are building a clear case for why changes need to occur and for what those changes should be." It begins with a belief that what is wrong can be made right. "The leader has to observe the team, learn where the failures lie, and then expose them." It's getting the dysfunction out in the open. Teams in Stage I also lack role clarity and without it, "team members lose focus and motivation and are left to wallow in mediocrity."
The funny thing about truth is that people often want to embrace it. They may not want to hear it, but once it's spoken, everyone's shoulders drop in relief. Finally, someone has noticed that the organization has been skating by. Finally, someone is willing to confront the ugly reality. Finally, someone is putting the success of the group above everything else.
What most often holds us back are the excuses we hold on to.
Stage II: Committing to Growth
Once you know what's wrong, you can shift the team's focus to what's possible. "The team at stage II needs a vision for where it's going, clear values to guide it, and a decisive plan of action that's chock-full of specific and attainable goals." Values provide the structure for how the team will move forward. "Team members have to move past the mediocrity they've embraced in the past."
Stage III: Changing Behaviors
In stage III, "your team members will learn to carry themselves as winners…. Leaders in stage III have to focus on providing their teams with insights into how and what they need to change while also providing the motivation to do it." This is probably the hardest stage and requires a consistent example.
Stage IV: Embracing Adversity
A team in stage IV accept and embrace challenges as a way to show their stuff. "Setbacks and obstacles should be welcomed because you're excited to prove that you're better than you once were." Of course, resilience is essential.
Challenges are moments of growth—times for you to refine yourself, make yourself better, and believe with even more confidence that you're on the right path. The resilience and the willingness to take on adversity that come with stage IV will prepare your team for the even larger challenges presented in stage V.
Stage V: Achieving Success
Stage V is a moment of victory. A time to reflect on the victory and the reality of having to continue moving forward. You must continually redefine what success means for you and your team. You must work to stay fresh. In stage V, you will adapt. The focus is on "defining who you are and adapting to where you want to go."
We think of life, our efforts, our aspirations, as something like a movie, as if we work toward the one big goal, give everything we have to a single crowning achievement, and when it's complete, the credits roll. We become so fixated on the effort to achieve that we sometimes lose sight of what we're doing and how it relates to the bigger picture. We sometimes forget that there aren't any credits, and that there's no stop to the action after we hold up the trophy. Life keeps rolling even after our big wins.
Stage VI: Nurturing a Culture of Excellence
Success doesn't last forever. Eventually, other setbacks will occur. Stage VI is about bracing for those times by developing a winning culture that is both lasting and enduring. At stage VI an organization "needs to concentrate on continual learning and innovation. Culture, continual learning, and innovation are ever present throughout the Team Turnaround Process but are often overshadowed by more prominent themes during the first five stages."
When teams win, they can become complacent. Success feels good and builds confidence, but it can also breed sloppy habits, overconfidence, and eventual performance decline.
The book concludes with the Team Turnaround Workbook. The exercises for each stage will help you and your team work through the Team Turnaround Process.
| | | |
| --- | --- | --- |
| |   | The Team Turnaround Process is a useful keep-in-mind as it helps you to better understand where you are, fosters patience and helps you to be in the present while maintaining the big picture when executing a turnaround. |
* * *


Follow us on
Instagram
and
Twitter
for additional leadership and personal development ideas.
* * *

Posted by Michael McKinney at 11:10 PM
Permalink | Comments (0) | TrackBacks (1) | This post is about Human Resources , Management , Teamwork