Win the Heart: The Four Cornerstones You Need to Build Engagement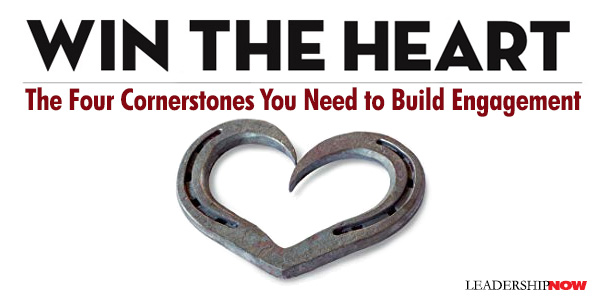 ENGAGEMENT HAS BECOME the Holy Grail of business—highly desired but hard to get. There are a number of moving parts, and it's hard to get them all aligned. Mark Miller says that "for many organizations, engagement is the final battle to becoming a high-performance organization."
In Win the Heart, Mark Miller lays out the four cornerstones that engagement is built on. In this business fable, CEO Blake Brown senses his company has an engagement problem. He turns to an old mentor, Debbie Brewster for help. This leads him, and his wife on an international hunt for lessons concerning engagement Blake's Dad had put together from people and places in history.
Blake and his team define engagement as "a condition of the heart reflecting an individual's level of genuine care for their work, coworkers, and the organization. And if the level of care is high enough, it will result in energy, effort, enthusiasm, and initiative" or more simply:
Engagement = Level of Care
Traveling to Selma, Alabama, Florence, Italy, Pella, Greece, Green Bay, Wisconsin, and finally, West Texas to complete the picture, they discover the four cornerstones of engagement.
Connection
Conversation is the primary driver. "You might even say we—me and my fellow employees—do life together. We talk about triumphs and tragedies, fears, failures, and struggles. We talk about how to help each other." "Real conversations are the bridge to real connections." And this includes conversations with all stakeholders.
Affirmation
"Their secret sauce was thank you. Loosely translated they are creating a culture of affirmation when they express genuine appreciation to their employees. They affirm people multiple times a day."
Responsibility
"Leaders must be willing to actually give people responsibility! Create a culture in which sharing responsibility is the norm, not the exception. Give people real responsibility for goals, methods, and decisions, whenever it makes sense."
Environment
"The how is simply to look at what people really need to win both physically and emotionally, and provide it. The coaches just equipped the team for success."
From an old friend of Blake's Dad in West Texas, they learn that "If you just hire a man's hands, you miss the opportunity to win his heart."
* * *


Like us on
Instagram
and
Facebook
for additional leadership and personal development ideas.
* * *


Posted by Michael McKinney at 10:22 AM
Permalink | Comments (0) | This post is about Human Resources