Being Smart is Not Enough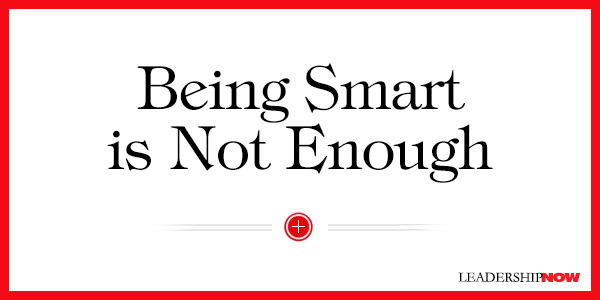 BEING SMART has become a commodity. It's permission to play, says Patrick Lencioni. He writes in The Advantage:
In this world of ubiquitous information and nanosecond technology exchange, it's harder than it has ever been in history to maintain a competitive advantage based on intelligence or knowledge…..I have become absolutely convinced that the seminal difference between successful companies and mediocre or unsuccessful ones has little to do with what they know or how smart they are; it has everything to do with how healthy they are.
He reasons that healthy organizations can get smart over time as they are quick to learn from experience and each other, but smart organizations don't necessarily get healthier by virtue of their intelligence. In fact, it often stands in their way as they are not as open to learning. "The key ingredient for improvement and success," writes Lencioni, "is not access to knowledge or resources, as helpful as those things may be. It's really about the health of the environment."
Healthy organizations are able to tap into more of their collective knowledge and use it. "Most organizations exploit only a fraction of the knowledge, experience, and intellectual capital that is available to them. But the healthy ones tap into almost all of it."
In short, what Lencioni is talking about is a component of humility: teachability. Teachability plays a huge role in determining the health and consequently the success of an organization. Unhealthy organizations are hindered by politics, confusion, and low morale, resulting in low productivity and high turnover.
Next time we'll look at what an organization has to do to become healthy.
| | | |
| --- | --- | --- |
| | | Instead of trying to become smarter, organizations need to focus on becoming healthier. Healthier organizations are better able to tap into and utilize the more-than-sufficient intelligence and expertise they already have. |
* * *


Like us on
Instagram
and
Facebook
for additional leadership and personal development ideas.
* * *


Posted by Michael McKinney at 12:02 AM
Permalink | Comments (0) | TrackBacks (1) | This post is about General Business , Management