Game Changer: How to Be A 10x Talent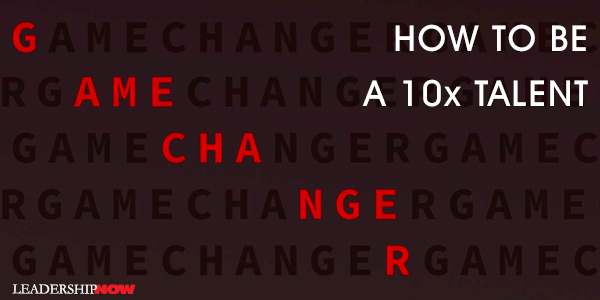 WHAT is a 10x talent?
10x talent, as the label implies, is able to deliver ten times more than is expected, but what makes them so valuable is that they are multidimensional. They are smart, good communicators, and have interests beyond their core specialty. Their curiosity and love of learning drives them to do more and do it better. They love what they do, and they love solving problems.
In Game Changer, authors Michael Solomon and Rishon Blumberg report that "Tech and digitization have disrupted the very foundation of all ventures, business, government, or otherwise and in doing so have handed over controls to those who have the exceptional skills to provide efficiency and meaningful growth."
The game has changed, and that puts 10x talent in the driver's seat. In addition, it demands a new kind of 10x management. There are really two sides to this idea. There is the talent, and then there are the people managing and developing that talent. Importantly, those managing the talent should be working to become 10x talent themselves.
The first part of the book discusses how to become a 10x company and attract 10x talent. Part two is about how you can become 10x talent.
As an organization, you have to give them the opportunity to optimize their whole life—working with the whole person from the inside out. "It's a level of respect that turns the very concept of boss on its head."
The authors say the most important thing you can understand about 10x talent is that they love what they do. But 10xers are not only high IQ but high EQ. They work well on teams. "Making it on the team is the new success." And of course, this means openness to feedback.
Ralph Perrine, the director of the Innovation Garage, highlighted the gap between the excitement of the innovator and well, everyone else. For him, 10x development "means not only finding a way to communicate your passion, but also finding a way to absorb the other party's skepticism." He says, "Driving change is hard. Over time, I've learned that our products improve when we're willing to hear others tell us the many ways things might go wrong."
An important key to all of this is curiosity, humility and therefore, teachability. "Great talent becomes 10x when it develops the quality of manageability—the ability to seek out and internalize powerful outside guidance, built on an invisible desire for growth and improvement."
Tech problems tend to be interdisciplinary in nature, and if you can only do one thing, your value ends when you hit the border of your skills. True 10xers don't hit that border—they plow right on through and keep learning.
The authors introduce what they call the Manageability Continuum, and everyone you meet is somewhere on this spectrum. At one end is the Success Impulse. It is the "internal tendency to make positive choices that steer talents toward both their goals and the company's goals." At the other end of the spectrum is the Sabotage Impulse. It is victim mentality. It's denial. When you see it, run from it. Unmanageability looks like this: "If I can't tell you the truth, no matter how much nonviolent language I use, if I can't have an honest discussion about something that's not working without you personalizing it, without you feeling victimized, then we are nowhere." Talent will never be enough to overcome the Sabotage Impulse.
The manageability test comes down to three questions:
How well did the potential 10xer handle a significant mistake of his or her own making?
How does the potential 10xer handle a situation where a boss or client wants something he or she thinks is a bad idea?
What does the potential 10xer identify as his or her biggest professional weakness?
Wherever you are on the Manageability Continuum, you can improve.
A 10x manager is someone who wants the best for you, is objective, and can see what you can't see both personally and situationally. They shine a light on your blind spots. "Following tough advice is takes real grit, especially when you're already experiencing some success." No matter how good you are, you will need an outside point of view to learn and grow and make your most important decisions.
A 10x manager "dares to study the future in ways you aren't ready to explore." They add, "sometimes it's all about getting a client [a 10xer] to do what he or she does best, but in a new uncomfortable sphere."
The best 10xers wear two hats: the 10x manager and the 10x talent. Anyone with 10x talent should be able to act as a managerial force for others. "Even those 10xers who are individual contributors by choice still need to interact in ways that require management skills. The great news is, by being the manger for someone whose career you genuinely care about, you are receiving a hands-on education in what constitutes receiving strong management. The better you can manage, the better you can be managed."
By helping others, you help yourself. "As the future threatens even greater sweeping changes in the workplace, with technology developing an ever more acute ability to replicate human processes, we believe that the accent on empathy, talent, and mutual guidance can be the guiding light for many and a lifesaver for some."
* * *


Like us on
Instagram
and
Facebook
for additional leadership and personal development ideas.
* * *


Posted by Michael McKinney at 06:16 AM
Permalink | Comments (0) | This post is about Human Resources