Growth: The Key to Leading for a Lifetime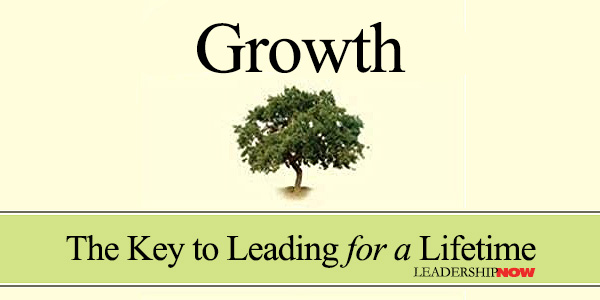 H
ARVARD Business School Press has thankfully reissued
Geeks and Geezers
by Warren Bennis and Robert Thomas, as a paperback titled,
Leading for a Lifetime: How Defining Moments Shape Leaders of Today and Tomorrow
. The focal point here is growth. The kind of growth that comes from working through and finding meaning in what they term the
crucibles
of our life—places or experiences from which one extracts meaning, meaning that leads to new definitions of self and new competencies that better prepare one for the next crucible.
The ability to learn is a defining characteristic of being human; the ability to continue learning is an essential skill of leadership. When leaders lose that ability, they inevitably falter. When any of us lose that ability, we no longer grow.
This book is about the importance of learning and how to keep learning. They write, "The ability to process new experiences, to find their meaning and to integrate them into one's life, is the signature skill of leaders and, indeed, of anyone who finds ways to live fully and well." In a nutshell, the ability to find context in your life experiences is key to success.
They talk throughout the book about the importance that crucibles play in the transformational learning that is essential to leadership. They ask if your company incorporates opportunities for learning into the daily life of the organization. Do they provide leaders with the tools and the coaching required to make the most of their formative, and transforming, experiences?
Companies need to encourage employees to reflect on what they are learning even as they face new challenges. Companies have to learn that quiet thoughtfulness may be more productive than frantic bustle. Employees need to be rewarded for the way they approach crises as well as for outcomes. Organizations have to distinguish between occasional good failure and habitual, unproductive failure. Employees need to be rewarded for their creativity, which inevitably means taking risks.
They cite Edith Wharton from The Age of Innocence: "In spite of illness, in spite of the arch-enemy, one can remain alive long past the usual date of disintegration if one is unafraid of change, insatiable in intellectual curiosity, interested in big things, and happy in small ways." Words to live and grow by, whatever your age.
* * *


Follow us on
Instagram
and
Twitter
for additional leadership and personal development ideas.
* * *


Posted by Michael McKinney at 12:35 AM
Permalink | Comments (0) | This post is about Books , Learning