Full-Spectrum Thinking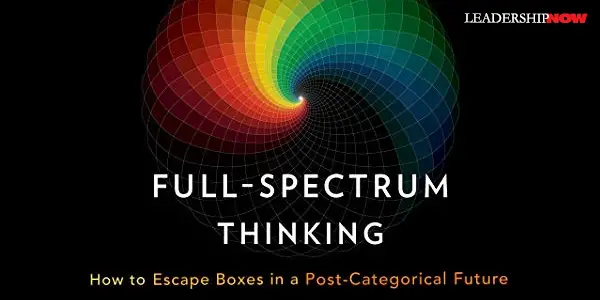 FULL-SPECTRUM THINKING is not common, and never has it been. And as the world becomes more complex, confused, and scrambled, it has never been more critical. Bob Johansen describes full-spectrum thinking as "the ability to seek patterns and clarity across gradients of possibility—outside, across, beyond, or maybe even without any boxes or categories—while resisting false certainty."
In Full-Spectrum Thinking, Johansen writes that "the future will punish categorical thinking but reward full-spectrum thinking."
The future will be a global scramble that will be very difficult to categorize. You will need a full-spectrum mindset to have any hint of what is going on. The scramble will be fraught with toxic misinformation (not necessarily intentional), disinformation (intentional), and distrust. In this future, it will be very dangerous to fit new threats or new opportunities into old categories of thought. Fortunately, new spectrums of thought will become possible in new ways over the next decade. Full-spectrum thinking will be required in order to thrive.
Full-spectrum thinking (FST) combines the "nuances of the analog world with the power and scale of digital." I like that.
FST is critical thinking that moves beyond binary, simplistic, categorical thinking. It's questioning assumptions, stereotypes, and categories. Mindless categorizing is harmful and requires very little thinking. It's dismissive. They create certainties that block us from seeing possibilities. They are, in a word, constraining. Johansen is not against categories "if they are fair and do no harm. All of us need to create structures and categories of some kind that work for us and for others." He adds, "Rigid categorial thinking is a bad habit we need to break."
Rigid categorial thinking leads us to certainty, which Johansen and others have declared is the opposite of clarity. And in a narrow sense, I think that is true. Certainty without humility almost certainly, will lead to a lack of clarity. Certainty can blind us to reality—clarity—since we only see things from our own certain perspective. FST demands that we question and take a wider, more inclusive view of the issues before us. But there is a certainty that guides us to clarity and causation and keeps us from adding categories, confusion, and complexity where there are none. And we see that happening all around us.
Johansen spends a good deal of the book applying FST to the future of business, technology, our lifestyle, and our sense of meaning. He noes that a forecast is to be evaluated on "whether or not it provokes a better decision in the present." Adding, "Strategy lives between insight and action" and "every good strategy is based on a compelling insight."
Most companies think in terms of Now, Next, Future. Johansen advises us to shift our strategic orientation to Now, FUTURE, Next. Most of our attention should go to Now. But in a highly uncertain future, we need to look to the future (10 years ahead) for clarity then come back to Next to act in the now.
Johansen looks at business development. "Think beyond products. Think especially beyond commodity products where competition is based only on price."
Organizations of the future will move beyond command-and-control to the U.S. Army's practice of commanders intent or "direction is very clear; execution is very flexible."
Leaders will still be a source of clarity, but the leader will not always be on top. The source of clarity should be grounding, and it should flow up and out across the network.
In an interesting chapter on Human-Machine symbiosis, he reimagines the human resources function. Perhaps we need to refer to it as Human-Computing Resources because humans are increasingly augmented by digital resources.
Human resource professionals will need the ability to better understand the capabilities of nonhuman and computer-augmented talent. Intelligent coworkers with powerful digital augmentation will be everywhere.

Collective intelligence—humans working together, augmented by machines—will be required to thrive.
And this. As video gaming as a learning medium becomes more widespread, human resource practitioners will need to be "experts in the medium of immersive learning through digital and in-person experiences."
Categories themselves will also become "more fluid and cross-spectrum" as opposed to being binary—in or out. "Diversity will become more important even as it becomes more difficult to categorize."
Creating or finding meaning will become a growth industry. From faith springs hope. Faith has the power to shape our future.
Faith grows out of a learning mindset. Faith allows you to navigate your way through things you don't have all figured out. Faith helps you make your way through fear. Faith is grounded in a sense of humility and openness to learning in an uncertain future. Faith implies a full-spectrum mindset.
Rituals and habits help to create meaning. "Rituals are a condensed code of meaning, and repeating the code [like saying "I love you" every day] reinforces the meaning."
Johansen believes that true digital natives (24 or under in 2020) are very good at full-spectrum thinking. "The true digital natives will challenge the social order." Of course, every generation of young people challenges the social order whether they were brought up on video games and digital content or not. He points out that, "Kids are born with full-spectrum thinking, but adults, schools, and society often force it out of them with education, testing, technology, and culture." How true. The difficulty for digital natives (like the rest of us) is not relying on soundbites and headlines to form our opinions. Most young people question the status quo and defy categories placed in front of them (or on them) by others. However, they also need to learn to express their thoughts and challenges in an emotionally intelligent way.
Full-Spectrum Thinking does make you stop and think about the categories, boxes, labels we place on people and things. We need to learn to think deeper and broader about the issues before us. It is a valuable and cautionary book.
Full-spectrum thinking will provide powerful ways to make sense out of new opportunities without assuming that new experiences mirror old categories, boxes, labels, or buckets. Full-spectrum thinking will help people avoid thoughtless labeling of others. Full-spectrum thinking will be a technology-enabled antidote to polarization and simplistic thinking.
* * *


Like us on
Instagram
and
Facebook
for additional leadership and personal development ideas.
* * *


Posted by Michael McKinney at 05:56 PM
Permalink | Comments (0) | This post is about Change , Creativity & Innovation , Human Resources