The Secrets of the Millennial Generation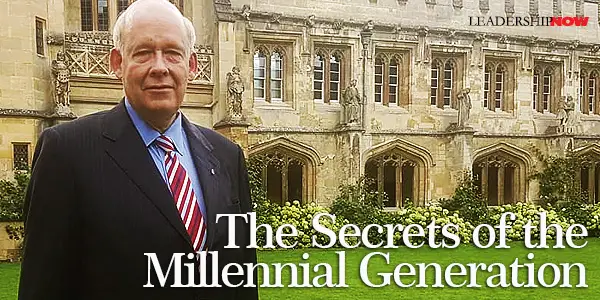 Talking Management
is a weekly
videocast
that McGill University's
Karl Moore
hosts for Canada's
Globe and Mail
newspaper. Recently he recorded a presentation on how to manage and lead today's youth. The
Business Strategy Review
, published by the London Business School, identified Moore among a group of world's greatest business thinkers. In this 20 minute video, he provides not only some practical ideas but an understanding of the context that produced the Millennial generation.
Here are some excerpts:
The job of the manager is not to have the ideas but to support them. That is saying that innovation comes from everywhere, not just from the center, not just from the top of the pyramid, not just from the old people, it comes from throughout the organization. This fits with the business need. A manager, a leader must now spend more time listening and looking for others' ideas and empowering them than in merely trying to be the great strategist. We have heard this for a while but I think that it seems more compelling today than in the past. It is just more true. It used to be that global firms would have a head office in a country and that is where ideas would come from but probably the main advantage of being a global multinational organization is that you are getting ideas and innovation from all over the World rather than from one place.

Emotions are more of a part of the conversation. It is a huge area of interest in work because we see that emotions are how you get the great energy out of people.

A renewed need for purpose is what young people particularly—but the boomers are getting there as well—is a sense that materialism is not enough. Having two Mercedes is not enough.

We have to rethink the meaning of career for young people particularly but Boomers are getting into this as well…People want much more flexibility; on-ramps and off-ramps.
You can also read a
transcript of the video
on the
Globe and Mail
web site.
* * *


Like us on
Instagram
and
Facebook
for additional leadership and personal development ideas.
Posted by Michael McKinney at 12:32 PM
Permalink | Comments (0) | This post is about Human Resources , Management