We Are Designed to Connect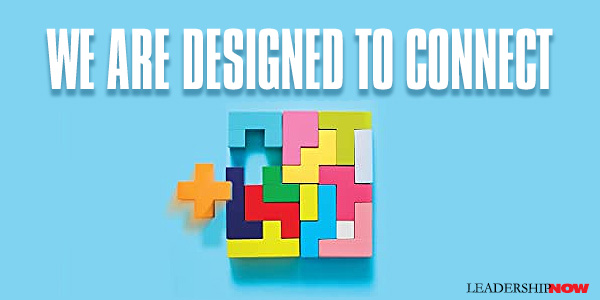 DO YOU feel like you belong at work? Seventy-two percent of workers feel lonely at least monthly. It is estimated that loneliness shaves 15 years off of a person's life. Ouch.
We are designed to connect with each other. And when we don't, we react in much the same way as physical pain. The brain processes physical pain and loneliness in similar ways. Our lives become significant when we connect.
In Connectable: How Leaders Can Move Teams from Isolated to All In, authors Ryan Jenkins and Steven Van Cohen write that "Connection is the default state of humans. We not only feel good together, but we feel normal." Loneliness should not be shameful to admit. "It's a signal. A signal that we need each other."
The bandit of belonging isn't difference but distance. When someone else's point of view, perspective, or behavior is unknown, unfamiliar, or unexplored, distance is created. Understanding and empathy grow with proximity. Abraham Lincoln once wisely said, 'I don't like that man. I must get to know him better.' Distance is the bandit of belonging.
They provide the LINK Framework to create belonging at work. Each letter in the LINK Framework represents a sequential step.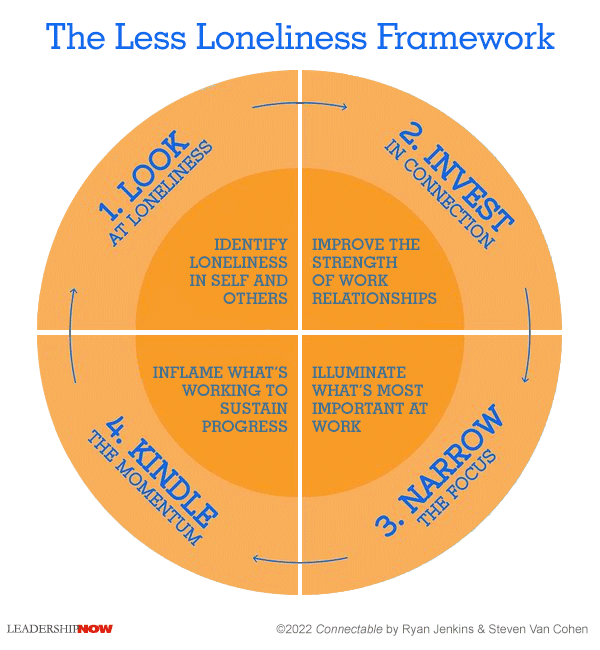 1. Look at Loneliness and identify loneliness in self and others. The well-being of your team members are your business. While you can't control what they do outside of work, you can control "how seen, safe, and engaged they are at work. How you made them feel while they were at work has the potential to impact their off-work behaviors and ripple across the entire community." A Less Lonely self-assessment is available online that includes specific recommendations to improve your loneliness level.
2. Invest in Connection and improve the strength of work relationships. This takes time, but they have offered actionable strategies to get you started. "Leaders should serve as 'normalizers-in-chief' when it comes to mental health challenges like loneliness. Workers want a more open and accepting culture, and leaders must be the 'first responders' to sound the alarm and address the issue.
3. Narrow the Focus and illuminate what's most important at work. "Loneliness is lessened when a team narrows their focus on purpose, a clear direction, and growth." As in the example given in the book, astronauts utilize these three elements to thrive in isolation.
4. Kindle the Momentum and inflame what's working to sustain progress. The first three steps will help create a small fire that will begin to draw people together. "Inflame what's working to sustain progress." Go back over the first three steps.
The framework works because prosocial actions like sharing, helping, and cooperating are contagious. Small, intentional, and routine behaviors will lessen loneliness.
It has been said that all relationships have one law: Never make anyone feel alone, especially when you're with them. And that's easy to do in our distracted, social-tech world. We must take steps to avoid it. Pay attention to others.
We all need distraction-free times, and we should communicate those times to our team. But we should also encourage those times when we are open to interruptions (and even use them to our advantage). "Interruptions are a free ticket to a renewed perspective, an uncovered blind spot, and possibly a better future."
Our commitment to lessen loneliness can take as little as 0.6, 1, and 5. "0.6 minutes (or 40 seconds) is how long it takes for loneliness to lesson during a two-person interaction. 1 person is the number of work friends it takes to feel less lonely. 5 minutes is the amount of time it takes in a team meeting to share something personal."
* * *


Follow us on
Instagram
and
Twitter
for additional leadership and personal development ideas.
* * *


Posted by Michael McKinney at 07:52 AM
Permalink | Comments (0) | This post is about Human Resources