I Hired Your Resume. But Unfortunately What I Got Was You!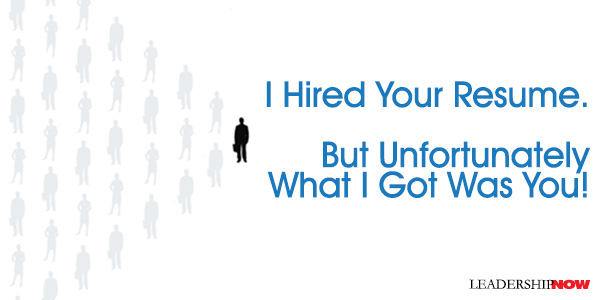 THE Wall Street Journal recently asked 100 CEOs of large companies what their top priorities were. After the obvious financial issues, the perennial concern over finding the right people to do what needs to get done was the issue of the day. This speaks to a larger problem of education, but makes all the more important the solutions presented in Who: The A Method for Hiring by Geoff Smart and Randy Street.
Smart and Street have set out to help you make better who decisions. Often the problem is getting past the resume and really getting to know the person you are considering. Most managers fail at hiring because they do not follow a rigorous hiring process.

Who
lays out a four step process that, in my experience, may need to be adapted depending on the type of position you are trying to fill. But the principles are valid across the board. If the book does nothing else, it will help you rethink what you are now doing and avoid what they call voodoo hiring practices – playing (mind) games with the candidates, trying to size people up after one conversation, and questions designed to trick or are that are irrelevant. The bottom line is that you can't "read" people like you think you can. "It's hard to see people for who they really are."
The four steps they recommend are:
Scorecard: The scorecard is a blueprint for the role you have to fill. Most companies would improve their odds if they just got this step right. The last job description you have on file is probably not precise or accurate enough to get you the right person for the job. You have to set clear objectives for your hiring process to know exactly what kind of candidate you need to hire. They say that hiring the "all-around athlete" is not as successful as the specialist – someone hired to a specific role that you need filled.
Sourcing: The question they get asked over and over is "Where do you find talented people?" The number one and best source is from your professional and personal networks. But if you wait until you are ready to hire, it's probably too late. "Successful executives don't allow recruiting to become a one-time event, or something they have to do every now and then. They are always sourcing, always on the lookout for new talent, always identifying the who before a new hire is really needed."
Select: Smart and Street recommend four distinct types of interviews: the screening interview, the Topgrading Interview, the focused interview, and the reference interview. You're looking for patterns, "facts and data about somebody's performance track record that spans decades."
Sell: Once you decide on a candidate you need to get them on board. Be sure to position your company as a place good people want to work. Care about what they care about: how they fit in, their family, freedom, compensation, and fun (the work environment).
* * *


Like us on
Instagram
and
Facebook
for additional leadership and personal development ideas.
* * *


Posted by Michael McKinney at 03:03 PM
Permalink | Comments (0) | TrackBacks (1) | This post is about Human Resources